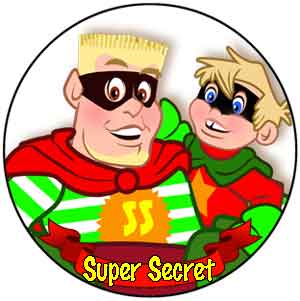 Super Secret Jack Spinner is a specialized sleuth, also known as a detective, is a favorite at the North Pole Times. Along with his Mighty Sidekick, Zachery the Kosmic Kid, he was contacted by Santa himself years ago to solve some of the most interesting cases at the North Pole.
Just remember, you can't tell anyone because it's SUPER SECRET!
You just never know when something really important goes missing or goes wrong. It can happen at anytime for any reason and could put Christmas in jeopardy. That's where the Mighty Duo come in. Once notified by Santa himself, he and the Kosmic Kid leap into action to solve all the very important and difficult cases at Santa's Village.
Waldo Elf is a gentle and lovable Elf at the North Pole who often causes problems that sometimes puts Christmas in jeopardy.
Elvin Elf is the Editor in Chief of the North Pole Times. Always on the go, always on a deadline.
Eugene Elf is Head Reporter of the North Pole Times. Elvin's right-hand elf.
Jiller Elf is a part-time Reporter at the North Pole Times.
Sports reporter for the North Pole Times. Timbo is a sports nut. He saw the Reindeer Games as a little elf, and fell in love with them.
"If something's broken, fix it. If something's not broken, tinker with it anyhow." That's the motto of Gizmo Elf, inventor extraordinaire.
Eddie Elf has been a Columnist for the North Pole Times for several years. He writes weekly "EDitorials" on "wEDnesday" on various Christmas-related topics.
Years ago Santa commissioned Toomer the task of traveling the world and report back to him on the good deeds kids do around the holidays.
Professor Ellie Elf loves teach about all things Christmas. She's specializes in math and quantum physics but enjoys the less complicated lessons as well.