MATERIALS NEEDED:
Fabric of any color or design
Two different size circles to trace around, (a dinner plate is a good idea for the large circle)
Needle & thread
Lace
Ribbon
Glue
Cotton balls or Baubles
A piece of card
Black pen
Yellow wool
1 gold pipe cleaner (optional)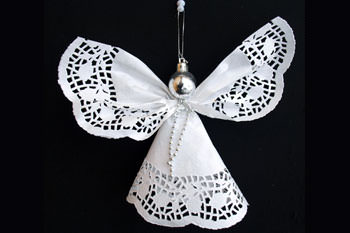 PROCEDURE:
For the Christmas Angel:
Draw a large circle (tracing a dinner plate) onto your fabric. Cut it out and sew lace around the rim. Put a cotton ball in the middle of the large circle then tie in the middle with the thread. Cover the thread by tying a ribbon around her neck. Draw a face onto the angel with your pen.

For the hair:
Take a very thin piece of material 2cm wide and the length of the angels head using the same fabric as the angel. Glue strands of the wool to the piece of fabric taking it right to the edge until the whole lot is covered and you can`t see any of the fabric. Glue to the angels head before gluing the halo on.

For the wings:
Cut out the smaller circle and sew fabric around the rim. Tie very tightly in the middle so that it looks like two fans. Tie around the neck so that it hides the pipe cleaner. Glue a piece of ribbon to the back and hang from the tree.

Other ideas:
Create a halo by using a pipe cleaner. Form half of it into a circle (leaving some left hanging). Bend in the middle and sew it to the back of the angels head.




Santa's Little Helper Helps Parents
This week our fingers landed in beautiful Ocho Rios, Jamaica!

Spirit of Giving
Think about it. We work all year to make sure there is enough to give to others at Christmastime.

Taking the Orient Express
I was flying over Europe when I crash landed somewhere in Germany.

Little Life Lessons
Professor Ellie Elf is in the classroom – but the elf students are missing! What will happen to graduation?

Will Worrisome Widget Wonderfully Appear?
Is the widget wrapped in the world's Wheely Bugs? We're down to the wire!

[ ] [ ] [ ]
[ ] [ ] [ ] [ ]
[ ] [ ] [ ] [ ]

ALL Content Copyright © 1995 - 2019 North Pole Times. All Rights Reserved!
Reproduction in whole or in part without the expressed written
permission of the North Pole Times is Strictly Forbidden.