Pinecone Tree Decorations
MATERIALS NEEDED:
Dry pine cones
Green, gold and red glitter
Glue
Card
Ribbon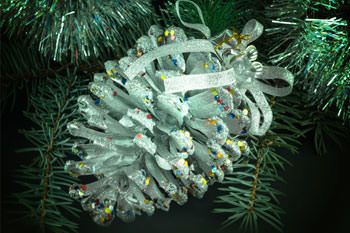 PROCEDURE:
Paint the pine cone with glue and sprinkle the green glitter over it and leave to dry.

Make a little star from the card and cover it with the yellow glitter. Once the glitter has dried on the tree make some wavey lines with the glue and sprinkle the red glitter (so it looks like tinsel on a tree) shake off the excess. Tie the ribbon in a circle and glue to the pine cone and hang from the Christmas tree.




Santa's Little Helper Helps Parents
This week our fingers landed in beautiful Ocho Rios, Jamaica!

Spirit of Giving
Think about it. We work all year to make sure there is enough to give to others at Christmastime.

Taking the Orient Express
I was flying over Europe when I crash landed somewhere in Germany.

Little Life Lessons
Professor Ellie Elf is in the classroom – but the elf students are missing! What will happen to graduation?

Will Worrisome Widget Wonderfully Appear?
Is the widget wrapped in the world's Wheely Bugs? We're down to the wire!

[ ] [ ] [ ]
[ ] [ ] [ ] [ ]
[ ] [ ] [ ] [ ]

ALL Content Copyright © 1995 - 2019 North Pole Times. All Rights Reserved!
Reproduction in whole or in part without the expressed written
permission of the North Pole Times is Strictly Forbidden.