"A mouse!?!" Toby rubbed his eyes when he saw a mouse under the pie. And not just any mouse, but Chris Mouse. For years, Toby had heard stories about the little thieving rodent. And now he had a chance to catch him and take all the credit.
So he started chasing the mouse all over the place. But all his efforts were in vain. Chris was so fast, clever, and tricky that no elf could ever catch him.
Running away, Chris first climbed onto the shelf. He waited patiently for the elf to get closer. But when Toby was about to grab him, Chris jumped on the chair, and Toby hit the shelf as the books fell on his head.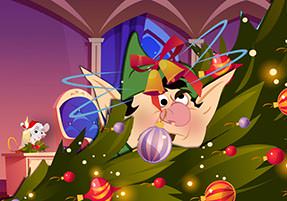 It was the same with the Christmas tree when Chris crawled up to the tree topper. Toby was rushing so fast he couldn't stop his feet. And instead of braking, he bumped into the Christmas tree knocking over all the glass balls and Christmas lights.
"Tee-hee-hee!" Chris grinned at Toby tangled up in glittering tinsel.
"I need a helping hand here," Toby called out to Waldo.
With a hasty pace, Waldo held out his hand.
"What is it?" Toby was confused.
"You asked for a hand," Waldo blinked under his glasses.
"I asked for help, not a hand," Toby rolled his eyes.
"O-oh," Waldo blushed and began to untangle his friend.
When Toby got rid of the decorative ribbons, he got to his feet. He chased the mouse, leaving a mess in his wake. He was so, so close to catching the little pest. But Chris dove into the hole, leaving Toby pinned to the wall.
"Tee-hee-rrific!" Chris was happy to slip away.
"We'll see about that," Toby frowned with a light bulb going off in his head.
What kind of idea did Toby get? We'll have a complete update tomorrow, ONLY on the North Pole Times. #1 in Santa's News! Trusted Worldwide!