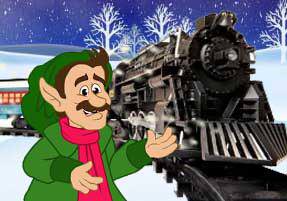 The other night, a few of the elves and I made homemade dark fudge and snowballs in Mrs. Claus' kitchen, and sat down to watch my favorite Christmas movie: The Polar Express!
Have you ever seen the movie or read the book? The Polar Express is a story about a few children who board a really big train on its way to The North Pole! The children encounter all sorts of magical memories and are in awe of the wonder in front of them. They enjoy the world's best hot cocoa on the comfiest of seats where they are treated like kings and queens. And, they struggle though a heart-pumping battle to get the massive train back onto its icy tracks.
But most importantly, a certain four children learn to accept one another and depend on one another within their friendship.
This friendship is mostly planted by a little girl in a pink nightgown. Filled to the brim with love, understanding, and spirit, she encourages the boys to appreciate all that is real about Christmas. She shows incredible leadership, and even Santa admires her courage.
Be brave like her this Christmas, and promote love and kindness wherever you go. Lead your friends into happiness, and help them out when they need it. Be a role model.
She also helped her new friend from The Polar Express: a boy named Billy. Unfortunately, he hasn't had many happy memories with Christmas. That part always makes me sad! Because of his experiences, he has lost faith, and no longer trusts Santa or the spirit of Christmas.
But he learns a special lesson on his trip: It's okay to depend on people, especially people who care about you, like Santa, grown ups, or your best friends.
Even if some Christmases don't seem as wonderful as others, you should still rely on the spirit of Christmas. If you do this, happiness will overcome the badness and the true spirit will carry you through. We meet Lenny, too, on the train. Lenny always makes the other elves and me laugh when he says silly things! He seems to be a little strange, but he is still loveable. He learns an important lesson too when Santa tells him to be humble.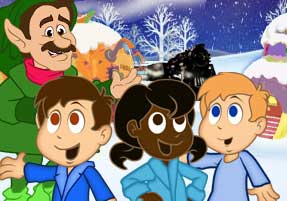 Being humble is being selfless. This means putting other people's happiness before our own sometimes and being thankful for what we do have without expecting more.
Sometimes, like Lenny, we might have a lot to say about something, or maybe, we are a little spoiled.
But Christmastime isn't about the presents or winning games or having the most to say. Christmastime is about sharing love and happiness with people we care about. It's fun to think about how lucky we are to have what we do have! Lenny learns he could try to care about other people more, and he wishes his new friends a Merry Christmas when they each go home.
Lastly, the main character in the story is a boy in a blue robe. Like his friend Billy, he, too, is cautious at first.
He is uncertain about my good pal, Santa, and what the true Christmas spirit means. When The Polar Express pulls in front of his house and the conductor yells for him to get on, the boy is still hesitant. Thankfully, he chooses to get on at the last minute, and enters himself into a journey of a lifetime.
After meeting several people and trying to listen to the reindeer's sleigh bells, the boy lets go of his doubts and learns what it means to believe. Believing during Christmastime is very important. Magical things can happen because of the Christmas spirit if we just believe they can. Believing means understanding that Santa is as real as the people who love us every day, and that wishes can really come true. This Christmas, believe in the true spirit and let the magic work through your heart.
When the train drops the little boy who now believes off, the conductor says, "That's the thing about trains. It doesn't matter where they're going. What matters is deciding to get on."
You should try new things this Christmas, like making new friends or learning new games. And don't be afraid to speak out and spread the cheer and love that brings the spirit of Christmas alive! How can you be more like the children from The Polar Express this Christmas? Be humble, be caring, be trusting, but most of all, believe.