The next day, the North Pole smelled nice again. The elves spent the whole night trying to get rid of the stench of Toby's gassy misfortune. They opened all the doors and windows, turned on all the fans, and sprayed the rooms with air freshener. And in the morning, when they woke up, a pleasant smell wafted through Santa's village.
Toby's friends ran to their workplaces. They made a deal that the first elf to see Chris Mouse would inform the others. And so it was.
"I see him! I see him!" One of them shouted. "He's at the Post Office!"
Toby stormed out of the bathroom so fast he didn't have time to pull on his suspenders. He rushed, hoping to catch the annoying mouse. And when he got to the Post Office, he saw Chris standing on the desk reading children's letters.
"Oh, there you are, you little pest!" Toby yelled, charging at the intruder. "You won't get away this time!"
Seeing the elf approaching him, Chris dropped the letter and started running. He quickly climbed to the last cabinet shelf where the postal workers kept the mail.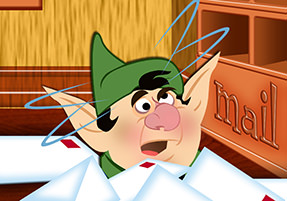 Toby jumped to grab the mouse but crashed into the cabinet instead. All the letters scattered around, covering Toby from head to toe. He dived through the pile, trying to get rid of the pesky envelopes. And when Toby finally found his way out, Chris had already slipped through a hole in the wall.
"Aw, come on!" Toby let out a sigh of disappointment. He started looking around for something that would help him catch Chris. And there it was.
"It's time for plan B," Toby slyly said.
Want to know what Plan B is? Find out tomorrow, ONLY on the North Pole Times.
#1 in Santa's News! Trusted Worldwide!