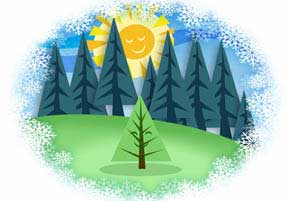 I've heard some rumors that humans have invented pre-lit trees, where the lights already come on the branches. And then they use ornaments that are all one color and they buy all at once! They say they do this to save time. Well, that's just not how we do it here at the North Pole.
As an elf, I guess I'm partial to the old-fashioned way of decorating for Christmas. It takes a lot of time, but we enjoy getting closer to those we love and care about.
Instead of saving time, we save memories! Maybe you should, too!
The first thing to do is get a fresh tree. Let the youngest elf—er, person—pick the fattest one. Tie it to your sleigh or car and to get it home. Then, sing Christmas songs out the window the whole way! My favorite is Rudolph the Red Nosed Reindeer, mostly because he pulls the sleigh home after we pick our tree!
Next, string the lights on with family. Purposefully tangle yourself up in the cords, get caught between the lights and the branches, and insist your fellow elf would be five times prettier if she were always wrapped in bright lights. We usually film this part so we can watch and laugh later over some hot cocoa!
What kind of lights? Well, I prefer colored lights over white lights. Christmas trees aren't meant to be built perfectly with matching bulbs and ornaments and big gold bows. Christmas trees are meant to be a smorgasbord of family memories, complete with half-eaten candy canes, partially-chipped ornaments, and lights to match your colored personalities and lifestyles.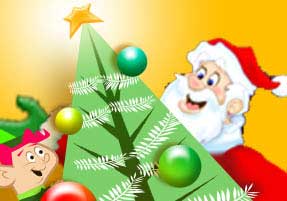 Now here comes my absolute favorite part about decorating! Gather all of your unique ornaments. The North Pole has so many boxes from elves from the past hundred years! Each ornament has a story: some were gifts, some were built in the workshop, and some were bought with friends. It's fun to remember the story behind each individual ornament.
When you hang each ornament on your tree, make it mean something. For every unique decoration you hang, dedicate it to a person, to a memory, or to a hope for the future. Be thankful for what you have in your life. Offer one for someone you love, another for your country, another for safety while sledding. We always put an ornament on the tree for each reindeer and each elf. And of course, a few for Santa!
Hours later, when the lights are no longer tangled, you've vacuumed up pine needles for the sixth time, and your mis-matched ornaments weigh all the branches down, you'll realize your Christmas tree means a little more this year! The memories you made while decorating will make the tree shine even brighter, and the spirit of Christmas, sharing, and togetherness will shine within your heart.