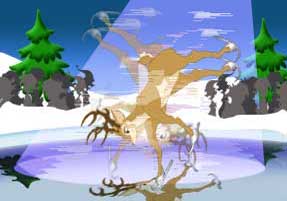 Welcome back to the Hoojamawazit Skating and Ice Cream Palace for our second day of the Figure Skating event at the Reindeer Games.
On our first day, all the reindeer showed tremendous grace and skill on the ice. And we saw more of the same on our second day, which is also known as the "short program."
"During the Marathon, the reindeer showed great endurance and strength, and today they will show tremendous skill," said Rudolph. "They can do almost anything!"
Indeed Prancer led off the competition with a triple back-flip and a double button-maker, perfectly executed, as the crowded Ice Cream Palace applauded enthusiastically.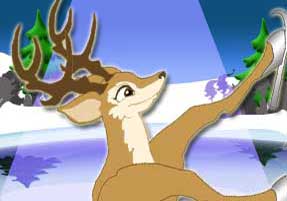 "What a show!," said Rudolph.
Dancer followed with a triple snow cone and a whirling dervish move where she spun so fast, the officials lost track of her. Comet also excited the crowd with a super fast triple flip and a double donut maneuver that brought the elfian crowd to its feet!
"Marvelous, just marvelous," said Rudolph.
The rest of the Great Eight also performed well but it was Prancer who still led the group despite a poor mark from the French judge. The skating will continue tomorrow to its final round.
Check back to see who will win the fifth gold medal of the Games!