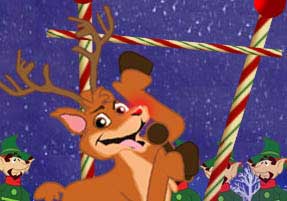 Welcome back to the Reindeer Games! Our first event will be the very difficult High Jump. Each reindeer will try to jump up and over the bar, which starts at a very high place and moves even higher as the event goes on. Whoever jumps the highest will win the first of the eight gold medals to be awarded at the Games. And to win the High Jump, it is very important for the reindeer to have good technique. Yes, technique is very important.
"You just don't run up and jump over the bar," says Rudolph. "That just won't do. You won't get very high and you might even get hurt. You must have proper technique."
Ok, that's cool, but what is "technique"? That's sort of a funny word.
"Well technique is the way the Reindeer move their body to get up and over the bar. If you move in certain way, you actually jump higher. Not an easy thing to do well."
Oh, wow, that's interesting. How do the reindeer improve their technique?
"Well there are only three ways: practice, practice and practice," says Rudolph, who doesn't tell too many jokes, but perhaps that was one. "It's not enough to be big and strong and fast. If you want to be good at the High Jump -- you must practice over and over and over. And you know, if you want to be good at anything, whether it's the high jump or playing a musical instrument or playing chess, you must practice that too."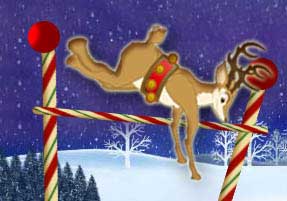 Good advice from Rudolph, who as always, won't be playing in any Reindeer Games, but will be here to help us understand the finer points.
And to those Games we go! The Official Elves have set the bar at 1 mile for the first round of the High Jump. Wow, that's pretty high. Let's see what the deer can do.
Up first is Donder. He takes a measured approach, then speeds up and finally plants a hoof firmly in the ground and soars straight up and over the bar.
"Oh my, that was a beautiful jump," says Rudolph.
Next up is Vixen. Vixen moves slowly forward and then heads right for the bar. Vixen plants and gets up and over cleanly. Well done by Vixen. And all the other deer follow and all make the first jump at 1 mile – Cupid, Dancer, Dasher, Blitzen, Prancer and Comet all make good jumps here on Day 1 of the High Jump.
So, all will be back tomorrow for the second round when the bar gets moved even higher. Check back to see who will make the next round.