Welcome back to the Games!
Today we continue with the final round of our first event, the High Jump competition.
The reindeer have performed very well so far – no deer has missed a jump yet! Indeed, each of the Great Eight made it over the bar at 1 mile on the first day. Yesterday, each made the leap at 2 miles!
"Yes, the reindeer have come to play, so to speak," says Rudolph, the Red Nosed Reindeer, on hand for expert commentary during the games. "The reindeer have started the games very strong, and I am sure they will continue to thrill the fans all through the games."
The reindeer have very special talents that help them lead Santa's sleigh all over the world on December 24, and those talents can be seen all throughout the games. For example, today, when the reindeer will attempt to jump over the High Jump bar at 3 miles! "That's some leap," says Rudolph. "Let's see what they can do."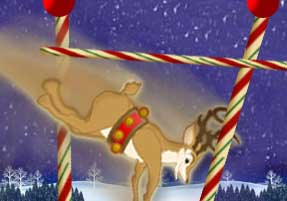 First up is Comet. He starts his approach, picks up speed, plants and soars up toward the bar. Oh, Comet just nicks the bar off its perch and the jump is unsuccessful. "That's ok," says Rudolph. "It was an excellent try by Comet. No shame in missing that one." Prancer, Blitzen, Dasher, Cupid and Dancer all follow with misses as well. Perhaps the deer aren't perfect, but they won't give up.
Next up is Donder. He heads for the bar, plants, and he is up and over! Well done by Donder. Vixen is last, and she also makes the leap at 3 miles. Only two deer are left.
"Let's go to 4 miles," says Rudolph. "Oh my I am getting dizzy." Vixen is up first. She heads for the bar, and she takes the leap and oh, she just misses. And now, Donder. He takes a steady approach, heads for the bar, plants and makes a strong leap. Donder soars very high, and he's heading close to the bar. It's going to be close. Donder is way up in the air, and, yes, he is over the bar at 4 miles!
A spectacular leap and a winning leap. And so Donder is the winner of the High Jump completion and the first gold medal of the Games. And Vixen takes second place.
Check back tomorrow when the Reindeer Games continue with our second event, the Long Jump.
Following the Long Jump will be the Sprint Race, Around-the-World Marathon, Figure Skating, Speed Skating, the Obstacle Course and Snowboarding.