Last week we left the Mighty Duo wondering how they might fly to the UK to retrieve a glove Santa dropped last Christmas Eve...
"Woohoo!" Jack hooted. BILL'S BRILLIANT HOT AIR BALLOONS! was just a short walk away, according to the sign. "I knew it! We can fly there."
"Not in a…" the Kid began.
But Jack had dashed off. Soon they reached the old, weathered building. Behind a dusty desk in the gloomy shop was a sleepy old man.
"Bill!" boomed Jack.
"Eh? Ah… that's me. What you after?"
Jack slapped the desk, choked on a blooming cloud of dust, and said, "One balloon ride to the UK, please!"
"Why, you're the first customers I've had in 14 years! People don't tend to fly balloons anymore… tend to take planes..."
"A plane would be ideal!" Zach interjected.
"Well… airport's hundreds of miles away… no planes 'round here. 'Cept Bessie o'course," he pointed through a grubby window. "That's 'er right there."
Before Zach could blink, Super Secret had run through the back door towards an old WWI biplane. Zach was unconcerned - there was no way the thing would get off the ground!
Jack climbed into the decrepit old ship, revving the engine."I knew this was the place! Just as I said. We shall fly!"
"Do you know... how?" asked Zach.
"I had lessons. Well, a lesson. I know about the important parts and… I'm sure the other stuff is intuitive."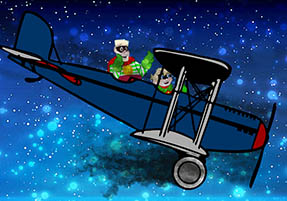 And, just like that, they were in the air and on their way to the UK. Jack guided Bessie through heavy rain and snow, dodging the occasional bird.
"Super… the UK's small but not that small… how will we know where to look for the glove? And how will we get home once-"
The engine sputtered. Black smoke billowed from the engine.
"We're going down!" screamed Jack. "I've never landed before!"
"What?! You said you knew all the import-"
KA-BAM! KA-PLOW! KA-BOOM!
Bruised, battered and upside down, the Mighty Duo landed… just outside Edinburgh Airport.
Will our duo find the missing glove in time for Christmas? And are they both in one piece after the crash?
Use your Super Secret Decoder Wheel for a sneaky peek or log on next week to find out!
Same Super Secret Time! Same Super Secret Place!
Super Secret Decoder Key: A=B
Super Secret Decoder Code: FWFSZPOF JT BMSJHIU