Today, we continue with the final round of the Long Jump competition – our second event at the games.
The Long Jump event begins in Santa's Workshop Arena where another very large and excited crowd has gathered. The crowd will see the deer take off, but the deer jump so well that they land very far away. Luckily, the Official Elves have some special measuring tape to see who jumps the farthest.
Let's head out to the competition. Up first is Prancer. She's set to go and takes a very fast run-up to the starting line. She plants and takes off beautifully. Prancer lands very far away, but the Official Elves are ready. Prancer jumps 2 miles and 1439 feet. "A fantastic jump," says Rudolph, on hand for expert commentary. "We're off to a good start."
Next up is Vixen. She sprints toward the starting line and takes off well. Vixen soars out of the arena and toward the landing area. Yes, it's a super jump for Vixen, and the Elves get out the measuring tape. It's 2 miles and 1437 feet for Vixen.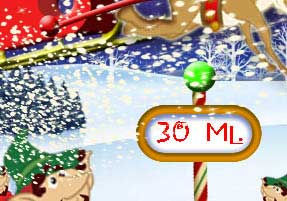 "Oh my, just two feet short of Prancer's jump," says Rudolph. "An excellent effort and good for second place right now."
Up next are Blitzen, Dasher, Cupid, Donder and Dancer. They all make very good jumps but none are better than Prancer's. That leaves Comet. He has the last shot at the gold medal for the Long Jump. Let's see what he can do. Comet heads for the line and makes a strong take-off. He soars up and out of the Arena, and the fans go wild! It's going to be a very good jump. Comet shows good form and moves beautifully toward the landing area. And he lands perfectly. It's a solid jump. And now for the measurement.
"The Official Elves are checking the tape and making sure they get it right," says Rudolph. And the final tally is: 2 miles and 1441 feet! That's good for first place and the gold medal in the High Jump. Comet is our second gold-medal winner. Prancer takes second place.
Check back tomorrow for the start of our third event, the Sprint Race! Following the Sprint Race will be the Around-the-World Marathon, Figure Skating, Speed Skating, the Obstacle Course and Snowboarding.