Poor Waldo was all alone in the dark spooky castle. As you recall, dear readers, Waldo, Mikee, and Gizmo came to the castle to find the meanie. They saw the shadow of a creature but it disappeared.
The elves entered the castle to find the nasty creature, but started disappearing one by one, first Mikee, then Gizmo, until Waldo was all alone in the dark spooky castle.
We don't know how they disappeared, and even worse, we don't know where they ended up!
Waldo was determined to find them. He walked between the spiderwebs, searching for any clue of his missing friends until...
Oh no! Not again! It can't be! Now Waldo Is gone!
Dear readers, all three elves disappeared in the dark spooky castle without a trace!
Oh, who is that? Could it be...? Yes, it's an elf! An elf appeared!
Waldo appeared somewhere in the darkness of the castle. He looked around but couldn't believe his tiny eyes!
On one side, there were bars, and on the other side, he saw familiar faces.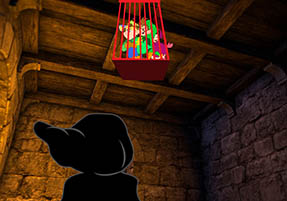 Dear readers, I have good news and bad news again! The good news is that Waldo found Mikee and Gizmo. They were all together. The bad news is they were all in a cage hanging from the castle ceiling. Uh-oh.
Although they were happy to be back together, they were scared being trapped inside a cage hanging high above the ground.
The elves heard the sound of footsteps echoing off the walls, but were too afraid to look. Someone or something was there.
Waldo, Mikee, and Gizmo slowly looked down and saw a creature! It had to be the creature the snow fairy, whale and seal warned them about. But there was something strange about it. He was different from what the elves expected.
"It can't be the meanie!" whispered Mikee. "He's too short!"
"You are right! It's not the creature" pointed Gizmo. "Look at his teeth!"
"And he has no giant claws!" added Waldo. "It can't be the creature we were warned about"
Then they heard in a squeaky voice, "How dares you speaks like that about I. Who do you think you are?"
Who do you think it was? Was it the creature the elves saw? How come he looked so different?
Keep reading the North Pole Times to find it out! We are #1 in Santa's News! Trusted Worldwide!