Boo and the elves needed to get back to Santa's village before it was too late. As you remember, dear readers, Boo wanted to help save Christmas and deactivate the virus he launched, but the same virus had destroyed his computer too!
Boo remembered an old rickety sleigh, and a reindeer with one horn, on the top of the castle. The reindeer couldn't fly, but the elves solved it with a few corn nuggets.
Now, the one-horned reindeer was flying high, but there was a tiny problem – he had flown AWAY!
The poor elves looked sadly at the reindeer flying and leaping across the sky. The last hope of saving Christmas was gone.
But wait! Is it...?
Yes! Randolph is coming back!
The overweight reindeer swooped out of the sky and plopped back onto the roof. "Gosh, I've never believed I could do such a thing!" Randolph said, out of breath.
The elves were jumping and cheering. The reindeer enjoyed his first flight so much that he got a bit carried away. But now he's back and ready to take the elves to Santa's village.
Yes, dear readers! Christmas is saved!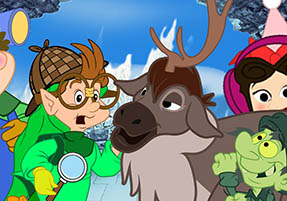 Randolph The One-Horned Reindeer will take the elves and Boone back to Santa's Village. Boone will deactivate the virus and save Christmas! The greatest mess at the North Pole ever is OVER!
Well, almost over.
Please, forgive me, dear readers. It seems that your reporter got carried away a bit, just like our one-horned reindeer.
The truth is, Randolph could pull the sleigh to Santa's village, but...
"Hop in and show me the way!" Randolph shouted gleefully.
Waldo, Mikee, and Gizmo all looked at each other, confused. They had come to the castle across the icy wilderness, hills, valleys, and across the Lake of Unfrozen Waters, but it's different through the air. They could retrace the route they walked, but Christmas would be over by the time they got back.
"Don't... Don't you know the way?" Waldo asked Randolph.
"Me? How would I know? I've never flown before!" he replied.
Uh-oh...
What do you think, dear readers? Does anyone know the way to Santa's village?
We're back tomorrow with the latest news about this exciting story, only on the North Pole Times.
#1 in Santa's News! Trusted Worldwide!