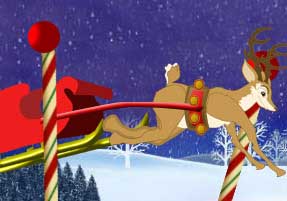 The Reindeer Games are back for another round!
Today, we finish up the Obstacle Course event and award the seventh gold medal of the games. Yesterday, the Obstacle Course made its way back from Paris, and all eight reindeer still have a chance to win. Today, the reindeer will make their way through the final round of the course – each reindeer will have to leap over the high jump bar and then race three times around the sprint race track before building a snowman. The crowds have gathered at Santa's Workshop Arena for the final round, and the reindeer are ready to compete.
First up is Dancer. She's at the starting line, and she's off! Dancer is up and over the high jump, and she's heading swiftly around the sprint race track.
"Dancer is moving well," says Rudolph. "She is off to a good start." And now she's building her snowman. The snowman must be six feet high and be made from three big snowballs. Dancer does a nice job in building her snowman, and she's finished the course in very good time – 23.5 seconds! Once again, the reindeer show they can do just about anything, except sing. "A great job by Dancer," says Rudolph.
Donder is up next, followed by Dasher, Vixen, Blitzen, Prancer and Comet. All perform well, but none can post a faster time than Dancer. That leaves Cupid. "Cupid looks ready to go," says Rudolph. "Let's see what he can do." Cupid is up and over the high jump in no time, and now he's blazing around the track. He's around three times very quickly. And now for the snowman building. Cupid rolls his three balls in spectacular time, and up they go!
"Beautiful job by Cupid," says Rudolph. A remarkable time of 19.6 seconds. That should be good enough for gold – as long as the snowman is six feet high! The Official Elves are out with the measuring tape, and they are checking. Yes, the snowman is indeed six feet high, and Cupid is the seventh gold medal winner of the games! He joins Donder in the High Jump, Comet in the Long Jump, Vixen in the Sprint Race, Prancer in the Around-the-World Marathon, Blitzen in the Figure Skating competition and Dasher in the Speed Skating event.
Check back tomorrow for our eighth and final event, the Snowboarding competition! This should be REAL fun.