Today, the Reindeer take on the third leg of the four-day, Around-the-World Marathon.
After the reindeer made their way through all of Canada and the 50 states in the USA on the first day, the Marathon continued through Central and South America yesterday. Today, it's on to the Far East.
"This will be a challenging and interesting day for the reindeer," says Rudolph. "They will make their way through many great countries." That includes Russia, China, Korea, Japan and then southward toward the South China Sea. The reindeer will make their final stop today in Australia.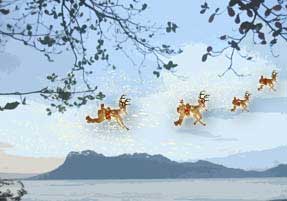 "It's been a close race so far," says Rudolph. "All of our famous deer have made a good effort, and each still has a chance to win." As the deer pass over the South China Sea, it looks like Comet has the lead, followed closely by Prancer, Dasher, Vixen and Blitzen. Just a few antler lengths back are Dancer, Cupid and Donder. Just now the reindeer are making their way over the Philippine islands, a very interesting country. With an estimated population of about 94 million people, the Philippines is the world's 12th most populous country. An additional 11 million Filipinos live overseas. Multiple ethnicities and cultures are found throughout the islands. That means many Filipinos celebrate Christmas.
Make sure to check out the North Pole Times every Friday where Fly-About Franny tells us how Christmas is celebrated in the other countries.
And check out the Reindeer Games as well, when the reindeer race in the final leg of the Around-the-World Marathon!