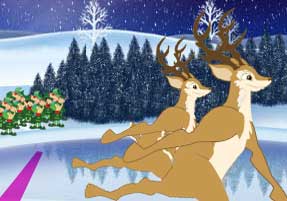 Welcome back as we continue with our sixth event, the Speed Skating competition.
Yesterday, the reindeer raced through the first round of the event, and the top four -- Dasher, Blitzen, Comet and Prancer – have moved on to today's semifinals. Once again, the North Polians have packed the the Hoojamawazit Skating and Ice Cream Palace, although some of the seats at the Palace remain missing.
"Where did the seats go?" asks Rudolph. "That's very strange. I hope we get an answer soon." Let's hope some naughty children haven't run off with the seats. We want Santa's Nice List to be as long as possible!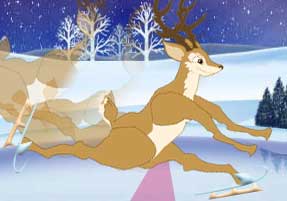 Despite the missing seats, the race goes on, and the reindeer have made their way to the starting line. Four deer will race around the special super-fast, speed skating track three times, and the top two finishers will move to tomorrow's final round.
We are ready to go, and they're off! "It's a good start, and the deer are moving well," says Rudolph. Indeed they are. One time around the track, two times around and now heading into the third lap, the race is close. Dasher, Blitzen, Comet and Prancer all have a shot at the final. Coming down the home stretch, it's still very close. "Any deer could win now!" says Rudolph. Across the line, it's too close to call.
The Official Elves head to the video room. After review, the top two deer are Blitzen and Dasher. They will move on to the final round. Check back tomorrow to see who wins the sixth gold medal of the Reindeer Games!