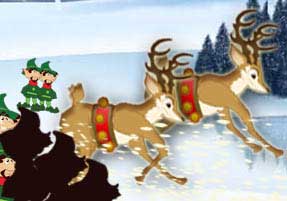 Today, we begin our third event at the Reindeer Games; the Sprint Race.
So far, we've had two gold medal winners – Donder in the High Jump and Comet in the Long Jump.
The Sprint Race has become one of the more popular events at the games, and Santa's Workshop Arena is packed for the event. In the Sprint Race, the reindeer race the entire length of the stadium and the top four move on to tomorrow's final round.
"This should be exciting," says Rudolph. "The reindeer are very fast and they can really move well." Let's head out to the race. All eight reindeer are lined up and ready to go. The crowd is on its feet and ready for a fantastic start! The flag is up and their off.
"Oh my we're off to a good start," says Rudolph, "And of course, the race will be over very quickly."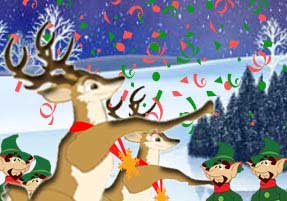 Yes indeed, the reindeer move very fast. Out of the gate, it seems Comet has taken the lead, followed by Dasher and Prancer and then Vixen, just a snowflake behind. Right behind the lead pack is Cupid, Dancer, Donder and Blitzen. "It's very close," says Rudolph. "Let's see who's going to make it to the final round."
Heading to the finish line, it's antler to antler. It's neck and neck for sure. And whoosh, all eight fly across the final almost at the same time. The Official Elves head over to the video review, and the first four are declared. Vixen, Comet, Prancer and Dasher are the top four! They will race tomorrow for the third gold medal of the games.
Check back tomorrow to see who wins!
And following the Sprint Race will be the Around-the-World Marathon, Figure Skating, Speed Skating, the Obstacle Course and Snowboarding.