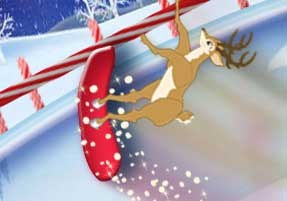 Welcome back to the world famous Reindeer Games!
Today, we begin our eighth and final event, the snowboarding competition.
The reindeer have competed in seven events, and our gold medal winners so far have been Donder in the High Jump, Comet in the Long Jump, Vixen in the Sprint Race, Prancer in the Around-the-World Marathon, Blitzen in the Figure Skating competition, Dasher in the Speed Skating event and Cupid in the Obstacle Course.
Today, the reindeer will compete in the Slalom competition of the Snowboarding event, and tomorrow they will try the "Big Air," as they say in Snowboarding. In the Slalom, the reindeer go downhill on their snowboard very fast and must pass through many gates, all the while making some difficult turns. The reindeer will race in pairs today, and the four winners will move to tomorrow's final round.
Let's head out to the course, where the first race is between Dancer and Prancer. They are at the starting line and ready to go. And they're off!
Both are out of the start quickly and heading down the hill. In and out of the gates they go! "Dancer and Prancer are moving well," says Rudolph. "A good run so far." Halfway down, Dancer has a half an antler lead, but Prancer is right there. It takes great skill to manage a snowboard with four hoofs, but the reindeer are up to it. Close to the finish line, Prancer has moved in front, but Dancer is right there. They are really nose-to-nose! Across the finish line, it's very close, but Dancer is the winner by a snowball. She takes the first race and moves to tomorrow's final round .
Next up are Donder and Cupid. They are ready and they're off! "Both reindeer show excellent form," says Rudolph. "They must go and in and out of the gates and handle the sharp turns, all while moving very fast. Great job so far." Once again the race is close, and they zoom across the finish line just a nose apart. To the video we go, and the winner is Donder! He also moves to the final round. In the final two races, Blitzen defeats Vixen by a hair, and Dasher knocks off Comet by a half a hoof.
And so tomorrow's final round is set: We have Dancer, Donder, Blitzen and Dasher. They will compete in the Big Air portion of the Snowboarding event – the final day of this season's Reindeer Games!
Who will get the BIGGEST air? Check back tomorrow to find out.