Happy Holidays to all of my fantastic friends!
Christmas cheer is growing and we're having a blast!
It's another terrific Tuesday at last!
Can you believe that the big day is just a couple weeks away? How did it go so fast? I guess that it is true what they say. Time flies when you're flying around the world witnessing cool Christmas kiddos performing awesome acts! (That's how the phrase goes, right?!)
I think I must have seen more terrific tasks and dandy deeds this past month than in the whole year combined. I am truly blown away (all over the world, in fact!) by all of the terrific tasks you guys have come up with. Why just this week, I popped across the pond from Nigeria all the way to Hawaii!
When I was in in Nigeria, I met a new friend named Nnenna. She was a very helpful friend indeed! She noticed that her little brother was struggling with his homework and she offered to tutor him! Not only did she explain the directions, but she answered every single last question that he had! Nice job Nenna! Your brother is lucky to have a kind big sister like yourself! I'll make sure that your nice points are added to the list.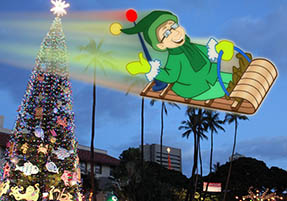 I saw so many helpful hands racking up nice points this week but there was one that really stood out. This Tuesday's wonder of the week goes to a stupendous kid from Hawaii named Hari. When Hari noticed that an older neighbor was struggling to carry all of the groceries inside from the car, he hopped up to help! Hari helped his neighbor carry all the groceries inside but he didn't stop there! Next, he put all of the groceries away and then helped cook dinner! Woah there, kid wonder! You really knocked us out of our boots! Santa will be as gob smacked as we are when he hears of this amazing action!
Well mates, there's just one more week left if you can believe it! I'd tell you to keep up the good work but I can tell from the way my toboggan is rearing to go that you're already doing it! I wonder how many places I'll get to visit and what kids I'll get to see this week!
Until next my Toomer Time my terrific friends!