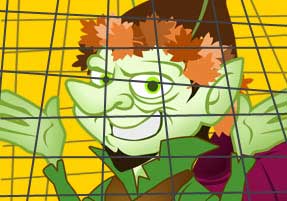 Phew! What a week it's been...
It started off with me wondering how to get Santa's Nice List going again after that grubby goblin had been going round whispering naughty ideas into children's heads. I'd managed to catch him, but I still had to find a way to get the number of children on the Nice List back to where it should be. Otherwise, Santa's pile of presents would be overflowing with undelivered toys and the boys in the warehouse would be really fed up!
I was thinking over the problem and, to be honest, it was beginning to give me a headache. I turned towards the goblin, who was still trapped in my butterfly net, but was grinning away. "You can stop smirking at me," I snapped. "This mess is all your fault. There are children on the Naughty List who don't deserve to be there. People aren't going to be happy when they find out it was you." The goblin gulped. "A-a-a-a-am I in trouble?" he asked. "Trouble? TROUBLE?!!" I yelled. "Unless I get these children doing terrific tasks and back on the Nice List, you'll be off to the South Pole." The goblin gulped again. "Not the S-S-South P-P-Pole..." he cried. "I-I-I w-w-wish I could h-h-help. I-I-I w-w-wish there was something I could d-d-do..." Suddenly I had an idea. "Do you know what?" I said, smiling. "Maybe there is... Maybe there is."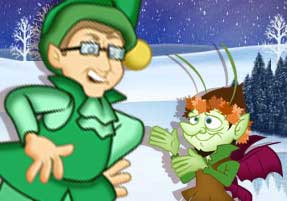 And so, I released the goblin. Yes, that's right – I set him free. Free to carry on going around whispering thoughts in children's ears. But I set him free on one condition...
"I'm letting you go," I told him. "But you must go round whispering good ideas in children's ears. Give them terrific tasks to do. Teach them how to do good deeds. Help Santa build up his Nice List!" The goblin nodded. "And if I hear you've been whispering naughty ideas, you'll be sent to the South Pole quicker than you can say GreatGreedyGoblins. Got it?" The goblin nodded again and, with that, he went on his way.
Well, that's it. I haven't seen him since, but I know he's doing his job. Santa's Nice List has more children's names on it this year than ever before. It's going to be a great Christmas!
If you get a little thought in your ear – to do a good deed or a terrific task – don't be surprised, it's just a not-so grubby goblin doing his job. And, whatever you do, make sure you listen to his advice - Santa's Nice List just wouldn't be complete without your name on it too!
Keep on doing those Terrific Tasks and have a wonderful Christmas!
Yours festively, Toomer