Boone's heart started to melt! He wanted to deactivate the virus and save Christmas, but there was a problem.
His plan, that caused the greatest mess at the North Pole ever, worked. But Boone also destroyed the computer that could fix it. The problem is he kept the secret antivirus code on that computer! Uh-oh.
Dear readers, this won't stop Boone and the elves. There had to be another way!
"We need to go back to Santa's village!" Gizmo declared. "But it's a long way from here, and Christmas is coming up quick!"
"I knows! There an old sleigh on the top of me castle! Randolph there too!"
"Who's Randolph?" asked Mikee.
"The reindeer." Boone responded enthusiastically. "Maybe he pull sleigh to North Pole."
Boone took the elves to the top of the castle, and it was true! There, on the frozen roof covered in snow, lie Randolph and a rickety old sleigh!
The elves were shocked to see the reindeer who was unlike any in Santa's barn. A bit chubby, with one horn missing, Randolph was fast asleep, snoring loudly.
"Hey, Randolph!" Boone shouted. "Wake up!"
The reindeer opened one eye, looked at the elves, then went back to sleep.
"Will you take us to Santa's village?" Mikee pleaded.
The reindeer opened his eyes slowly and said, "Oh, you, silly elves. You've seen a lot of magic in your day, and you believe all of us can do wonders. I can't fly; only magic reindeer can." and, again, fell back to sleep.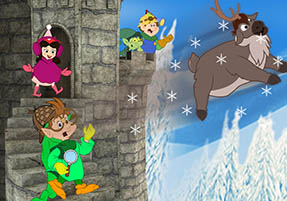 "Magical corn or dust can make reindeer fly," Gizmo explained. "But where to find them?"
"There's some in the Reindeer Barn at the North Pole." Waldo spluttered.
"And just how do we get to it?" Gizmo responded shaking his head.
"Ahhh… we can just… umm… well…" muttered Waldo.
Boone checked his pockets and found some leftovers from his snack the day before.
"Will corn nuggets work?" Boone asked, holding three corn nuggets in his hand.
"Well, we've got nothing to lose," Gizmo replied.
The reindeer munched down the corn nuggets and, believe it or not, started to kick and bound! The chubby fella with one horn took off and flew so high that the elves could no longer see him.
The elves looked sadly at the sky, then at the old rickety sleigh.
"Our only hope has flown away," Mikee sobbed. "Who will pull the sleigh now?"
What do you think, dear readers? Who will pull the sleigh to Santa's village?
Keep reading the North Pole Times to find out. We are #1 in Santa's News! Trusted Worldwide!