No matter where in the world you live, know that our work here never stops as we get ready to fill Santa's sleigh with gifts for children of all ages in all places.
Here's a quick update as we begin to get closer to the big day:
I still have my moustache, but there are a few gray hairs in it. My goal is to one day have a white moustache and beard like Santa Claus. I've looked up to him my whole life!
We sort letters mailed to Santa, we read emails and put them in order for him. Our North Pole Nosh Nook (the new name for our fancy elf cafeteria) is serving healthier food for us, including vegetables and salads. I've actually taken a liking to carrots. (You didn't think reindeer were the only ones who liked them, did you?)
Fresh fruits and vegetables are in abundant supply here. We like to display them in cornucopias.
Also in abundant supply thanks to you is caring and hope!
You will probably never know how many people in your life care about you. Yes, you know you have friends at school, at home in your neighborhood, at daycare, all kinds of places. But there are people in your life who watch your life from a distance who see when you make good decisions and choices. When you help a friend who's sad or worried. Maybe she or he got hurt in gym or on the playground or ball field or court. It doesn't matter. Being there to show you care is one of the most important ways you can be a friend. And those you may not see often who care about you – your cousin, niece, nephew, aunt, uncle, grandmother, grandfather, God mother, God father. The list goes on and on.
Did you know people look at you and feel hopeful? Yes, they do indeed. At the North Pole, we are kept up to date on how you're doing and feel so good to see you growing up slowly but surely. You are hope for a bright future. You matter.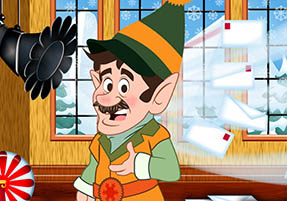 Now, be thinking about your list for Santa Claus in case you're planning to visit him or send your list in an email to Santa. When you're putting your list together – it's normal to think of toys, games as surprises for Christmas. I'd like to ask you to add at least one more line to your list. Please write down something you'd like to see happen to make the world better.
It is you and all the people your age that are going to make our world a better place, because of your ideas and the very fact that YOU are in it.
In many ways, you're a gift to the world this Christmas. I hope you can see that.
Well, I better get to work. The clock keeps ticking closer to December 24, and we have to be ready to go snow, sleet, hail, rain or shine!
Until next wEDnesday!
For goodness sake,
Eddie Elf