Chris Mouse woke up late that day. He jumped out of his tiny bed, brushed his tiny mustache, and put on his tiny Christmas hat. He kissed each head of his twelve children. And when they woke up, Chris helped his lovely wife squeeze toothpaste onto twelve toothbrushes, prepare twelve outfits, and tie twenty-four shoelaces.
After finishing his chores, Chris was exhausted. He needed a long nap. But instead, Chris heard some growl coming from his oldest pup's belly. And then he heard another one. And another one. And in a twinkle, twelve hungry stomachs were growling, rumbling, and gurgling.
Chris opened his tiny fridge but found no food.
"Tee-hee-saster!" He cried out.
He had to quickly figure out how to get breakfast for his little ones. But suddenly, the overwhelming smell of fresh cheese reached his nose. Chris poked his head out of the hole to make sure Toby wasn't in sight.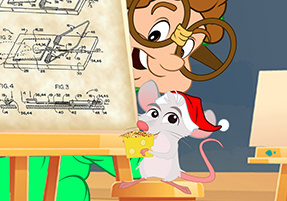 Sniffing and snuffling, he followed the smell of cheese wafting from the kitchen. Chris sneaked around like a ninja crawling up the curtains and rolling under the chairs. And when he reached the kitchen, he saw the most beautiful yellow cheese with holes he had ever seen.
"Tee-hee-licious!" Chris exclaimed, not knowing it was Toby's trap.
The thing is, while Chris slept in his hole, Toby carried out his Master Plan. With the help of the other elf buddies, Toby coated the cheese with hot pepper.
Unaware of the danger lurking, Chris opened his mouth wide to take the first bite.
"Hey, psst!" Waldo whispered and pointed to the standing easel with the blueprint of Toby's trap. "I don't recommend you taste it. But it would be such a shame to throw away the cheese. Someone should eat it," Waldo winked.
"Tee-hee-hee, not me!" Chris Mouse grinned.
Who will eat cheese coated with hot pepper? Find out tomorrow, ONLY on the North Pole Times.
#1 in Santa's News! Trusted Worldwide!