Editors note: From time to time, The North Pole Times asks some of the more notable citizens of the North Pole to write a little bit about themselves as a public service to our readers. Today, Bernard Elf tells us how he keeps Santa on Schedule!
Have you ever heard the phrase "I'm as busy as an Elf on Christmas Eve?" No? Well, you should! Because that's a great way to describe your life when you're really busy! And for me, I'm busy as an Elf on Christmas Day every day!
There's so much going on here at the North Pole! There are lists to make, and check, and check again, toys to make, presents to wrap, reindeer to feed and wishes to grant! And Santa can't do it all. so he has us help him. And I'm the helpingest of all! That's why I'm Santa's Number One Elf!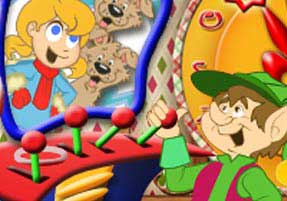 Mostly what I do, though, is keep Santa on track. He may see you when you're sleeping, and know when you're awake, but sometimes he doesn't know when he needs to move on. For example, this morning he was checking in on Anna from North Carolina to see how well she was treating her dogs Buttons and Gracie (turns out she treats them very well, indeed--most of the time), when he was supposed to be finding out if Doug in Oregon was still not eating all his carrots (turns out he isn't--most of the time)!
It's a tough job, being Santa's Number One Elf, but I'm glad I have it, and I wouldn't change it for the world!
I'd like to write more, but I've got so much to do. I've just heard that there's some sort of problem in the wrapping room that needs my attention. It's probably nothing, but if there's anything going on, I'm sure you'll read about it tomorrow in The North Pole Times!