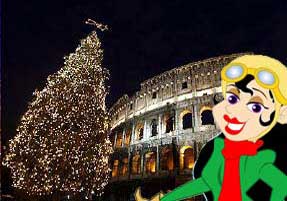 Oh My!
Christmas is less than a week away! Have we been busy here at the North Pole Times. Thanks to one of the South Pole scientists, I finally got my sleigh fixed and flying at the right speed. So this week, I'm heading to Italy.
Italy is in the southern part of Europe, some people say from an airplane it's looks like a boot. Italian boys and girls really like to celebrate Christmas. Christmas in Italy begins eight days before Santa comes. These days are known as Novena, and during this time kids travel house to house to sing carols and recite poems. Often the kids dress up as shepherds and play instruments to the people living there. As a reward, they are given money to buy presents for their family members.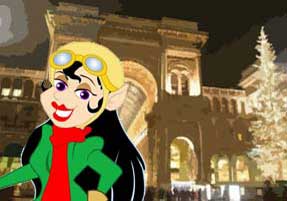 The day before Christmas Eve Italians stop eating, this is called fasting. They do this so that they are very hungry when the Christmas Eve feast starts! The night before Christmas Italians have a celebration dinner, and eat lots of good food, like cake called panettone, gingerbread, chocolate and fish! Some families prepare over a dozen different seafood dishes. Presents and empty boxes are drawn from what's called the Urn of Fate. The Urn of Fate is a large ornamental bowl that holds wrapped gifts for members of the family. When the family gets together, each member takes his turn at drawing a gift from the urn until all the presents are handed out. These are the only gifts kids get during Christmas. Otherwise children don't open their presents until January 6th, when the Christmas season ends. That's a long wait! Lunch on Christmas Day is another large feast with everyone's family invited to attend and celebrate the season.
Santa asked me to have any kids I talk to write out their Christmas list. If you haven't written out yours yet, you can do it now. Santa needs those soon so the last few toys can be made. Thanks for joining me in Italy this week. This is the last Franny's Friday before Christmas!!! I've enjoyed flying around the world to share with you how different children celebrate Christmas. I hope you enjoy your celebrations this year. Merry Christmas everyone!