Editors note: As a service to our readers, The North Pole Times now reprints the letter to Santa written by Dolores Flemspackle.
My Dear Mister Claus;
Many, many thanks to you and your staff for the welcome you showed my son and me during our recent visit to The North Pole. Your Elves are a hard-working group of people, and if you ever need to fire any of them, please let me know--I would love to have them work for Flemspackle Industries--especially since they seem to work for free!
You have probably noticed that you are missing two reindeer. You don't need to worry about them. I will be putting them to good use. My son is right--we need to cut down on pollution, and these two (soon to be three!) reindeer will help me to do just that--and make me quite a bit of money, too!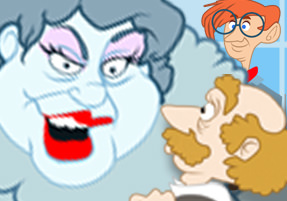 And in case you're wondering: I'll just consider these reindeer as my Christmas present--no need to bring me anything more. Especially since you won't be able to find me!
Again, thanks for the wonderful visit!
Yours as always,
Dolores Flemspackle
What will Dolores do with the Reindeer? Keep reading The North Pole Times to find out!