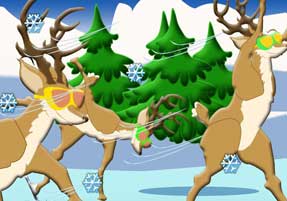 Welcome back to the Hoojamawazit Skating and Ice Cream Palace for the final round of the Speed Skating competition – our sixth event of the Games.
Yesterday, Comet, Blitzen, Dasher and Donder were the top four finishers in the exciting first round. And they will race again today on the special speed skating track at the Ice Palace for the sixth gold medal of the Games.
So far, our gold medal winners have been Cupid in the High Jump, Vixen in the Long Jump, Comet in the Sprint Race, Blitzen in the Around-the-World Marathon and Prancer in the Figure Skating competition.
Today's speed skating final round brought in a packed the house at the Ice Cream Palace for the one of the most popular events of the Games. The special, super-cold one-mile track was built just for the event Gizmo Elf earlier this season.
"Today's race should be close," said Rudolph. "Yesterday our reindeer made 10 laps around the track in just 11 seconds. Today should be even faster."
Indeed it should. Well, we are now ready for the race. And they're off!
Around the first turn, it looks Comet has the lead followed by Blitzen, Dasher and Donder. But just an antler separates all four deer.
Into the fifth lap, it's Blitzen now in the lead by just a snowball's length. And by the eighth lap, Donder is in front by hair.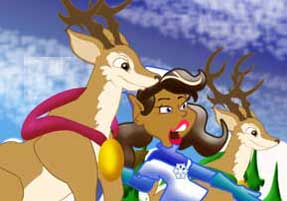 And now coming around the final turn, it's very, very close. Who will it be? Oh my it's close, but at the final moment, Dasher passes the pack and takes the gold, followed by Donder, Dasher and Blitzen. All in just 10.1 seconds!
"A super race," said Rudolph. "Very, very exciting."
And now only two events remain at the games -- the Obstacle Course and the 2222-Mile Marathon – before our Closing Ceremonies.
Check back tomorrow for the first day for the Obstacle Course event!