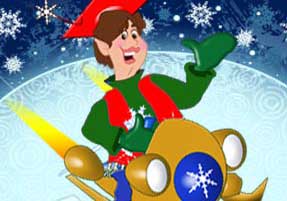 At Santa's Saturday School of Wonders, elves create many amazing things. Today, we used words to make diamonds!
We elves love to use words. We like to create cheery songs, funny stories, and lots of rhymes. When we create things with words, it just makes us happy. Have you ever said something silly with words and then laughed? Then, you know just how magical words can be.
The diamonds our elves made today were not the sparkly kind that princesses wear. Instead, we created diamante poems. When you write a diamante poem, the words make the shape of a diamond. This kind of poem is really special because it makes us elves think of the way Christmas stars twinkle at night.
Diamante poems are easy to write – you can create one without any elf magic at all. Look at the poem below, by Jingle Elf, and think about something you enjoy. Do you have a favorite animal or toy? Things you like will be easy to write about. Next, ask a grown-up to click the Make a Poem button below to use the Diamante Poem Tool (©ReadWriteThink.org). This tool will give you easy instructions to create and print your own poem.
Though we love to make toys, elves also like to make word magic. Remember, poems make people happy, so maybe you can be like an elf and make a diamante poem as a present for someone else. Then, you get to give someone a little of your own magic.



Christmas Light,
A Diamante Poem by Jingle Elf

Night Sky
Silent,&nbsp&nbsp&nbsp Cold
Sparkling, Shimmering, Waiting
Stars &nbsp Sleighbells &nbsp&nbsp Laughter &nbsp Magic
Beaming, Cheering, Celebrating
Joyful,&nbsp&nbsp&nbsp Glowing
Christmas Light
Make a Poem - Click Here
With a grown-up, click the button above to access the free, interactive
Diamante Poem Tool
, provided by ReadWriteThink.org, a Thinkfinity website developed by, and in partnership with the Verizon Foundation.