Dear readers, Gizmo remembered the story about Boogerwig's family! After many icy winters spent all alone with nothing but hate and meanness in his heart, Boogerwig was about to find out what truly happened.
Did Santa take 's family?
Dear readers, to better understand what happened, you should hear Gizmo's story from the very beginning.
"Long, long ago, before we settled at the North Pole, Santa needed help with the presents. The Laug Emel Galadrim tribe—which means Warm Heart Elves—came from its distant homeland to help.
As the name indicates, these elves had warm hearts; full of love, compassion and magic. They prepared all the presents for Santa in a single day, packed the sleigh, and saved Christmas that year.
Once their mission was complete, they would go back to their homeland. At the stroke of midnight on Christmas morn, while asleep, the magic of their warm hearts took them home. Each warm heart sent forth a magical ray of light; and at the point where those rays met, a portal opened and carried them home.
Santa told me the portal lit up the entire North Pole. It was the first time Santa had seen such a light, and the last time he saw his dear helpers," Gizmo said softly and stopped for a moment to gather his thoughts.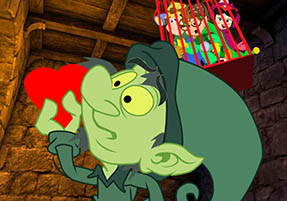 Mikee sobbed as she reached into her craft bag. She took some red felt cloth, paper, and glue. Within a moment or two, her crafty hands created a heart ornament.
Mikee gave Boogerwig the heart made with heart, which started to melt his cold heart.
Boogerwig began to remember his first days at the North Pole.
"Me parents saved Christmas." Boogerwig sobbed. "Me destroys Christmas! What has me done?! Boogerwig messes up! Me mom didn't leave I!"
"But how come you stayed here? How come you look so different? Why didn't the magic take you home with your family?" Gizmo inquired.
What do you think happened? Why didn't the magic take Boogerwig to his homeland?
We'll have more on this emotional story TOMORROW. ONLY on the North Pole Times!
We are #1 in Santa's news! Trusted worldwide!