Dear readers, what a twist! It turns out that the meanie hadn't always been mean.
As you recall, little Boogerwig was a sweet, but clumsy, elf. A tiny accident with a hot plate destroyed the lembas bread his mom prepared for Christmas. It also caused an unpleasant situation with the siblings and his mom. Little Boogerwig got mad, Really mad… I mean REALLY, REALLY mad. Then slammed the door and fell asleep.
When he woke up the next morning, everyone was gone. Since it was Christmas morning, little Boogerwig thought Santa had taken his family. From that point on, he hated Santa AND Christmas. That's why he sent Waldo a friend request that launched the virus and caused the greatest mess at the North Pole ever.
The elves couldn't believe Santa would do such a thing.
Waldo, who was the most sympathetic with the clumsy creature, had an idea.
"Why don't you ask Santa what happened? Come with us to the village!" Waldo suggested.
Boogerwig screamed, "NO! My prisoners, you are. You will never see your goody, goody family again, just like I never see me family again. Santa take me family, so ME TAKE HIS!"
"Don't jump to conclusions! You need to hear what Santa has to say," Mikee responded.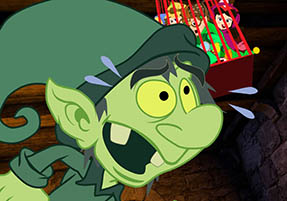 "NOOOOOOO! Never! Me hates Santa! Me very much hates Santa and you goody, goody elves!" Boogerwig screamed stomping his feet. "My mean virus destroys Santa and destroys Christmas for good!"
"We'll help you find your family," Mikee said. "If we found you, we might be able to find them too!"
"Me family? Finds me family?" Boogerwig's voice became soft, then screamed again, "NO! They left me! They don't love Boogerwig! They went without Boogerwig! My mom left because me makes a mess!"
"Moms don't leave their children for a tiny mess," Waldo added. "I know it well... too well."
"Wait! A family..." Gizmo exclaimed. "It can't be YOU! You ALL went together! No way! You look different...so different... You CAN'T be little Boo!"
"Me mom called I Boo!" muttered Boogerwig.
What do you think happened to Boogerwig's family? Did Santa take them? Did they leave little Boogerwig because he wasn't good enough?
We're back tomorrow with the latest news on this mysterious story. Right here, on the North Pole Times! #1 in Santa's News. Trusted Worldwide.