With the talent show over, all the Elves got back to business. Gizmo Elf had the Appendapulator, the great toymaking machine of the North Pole, working quite well. All the Elves were bustling along as best they could. Of course, some bustled better than others.
Toby Elf was the bustlingest bustler, followed closely by Smitty Elf. They always seemed to try to out-bustle each other, but they remained good friends throughout.
The least bustling-est Elf, everyone agreed, was Waldo. And most of the Elves also agreed that this was a very good thing. Because when Waldo was buslting, things got busted.
So no one really seemed to mind that Waldo was off in a corner, thoughtfully polishing the second-place trophy he had won in the talent show. It meant he wasn't getting in trouble.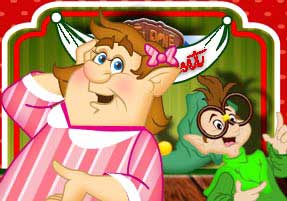 Teema Elf, who was really only supposed to be visiting, was bustling more than just about every other Elf there (except, of course, Toby and Smitty). The other Elves were impressed. "Wow! She sings so beautifully, and she bustles so well as well," said Chipper Elf, as Teema carried half a dozen gift-wrapped bowling balls to the loading area.
"Lots of the younger Elves seem to really like her," noticed Gizmo Elf, as he watched her whisper something to a group of them, then they all looked over at Waldo and giggled. "It's nice to see she's making friends."
Friends are good things to make--almost as good as Christmas presents! Keep up with all the activities of your friends at the North Pole by reading The North Pole Times every day!