Who will win the fifth gold medal of this year's Reindeer Games?
So far, we've completed four events in the Games, and we have four gold medal winners: Prancer in the High Jump, Cupid in the Long Jump, Dasher in the Sprint Race and Donder in the Around the World Marathon.
And today, in the final round of the Figure Skating competition at the Hoojamawazit Skating and Ice Cream Palace, we will crown the fifth medal winner. And so let's head to the rink for the action!
As we know, all of Santa's elves are on strike now, and that includes the Official Elves, our friends who judge all of the events at the Reindeer Games. And so, Rudolph has filled in admirably.
But today will be Rudolph's toughest job. Coming into the final round of the Figure Skating competition, all eight deer were remarkably tied for first place! So today's skate, known as the "long program," will decide the winner.
In the long program, each reindeer must skate a full 3 minutes, and do many, many daring tricks, hoping to impress Rudolph Red-Nosed Judge.
Up first is Cupid and then Donder. Both are skating well, and each one completes many fine jumps and whirling moves. Cupid earns a score of 9.2 (out of 10) and Donder a 9.3.
And now it is Dasher. Dasher puts on a magnificent show, doing 3 triple flips and 2 double wannamakers in a spectacular performance. And the crowd at the Palace applauds loudly for Dasher.
It's a 9.9! Almost perfect.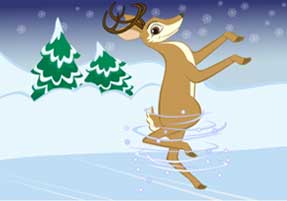 Then a turn each for Blitzen, Vixen, Comet and Prancer. And each does an excellent job. Scores: Blitzen 9.5, Vixen 9.5, Comet 9.6 and Prancer 9.4.
Finally it is Dancer, and she does not disappoint the excited crowd. Dancer completes 4 double back-flips, 3 double button-makers and a super-duper whirling maneuver that few have seen before.
Rudolph ponders the moves and thinks hard about a score for Dancer. What will it be? After some tense moments, Rudolph makes the call. It's a perfect 10 for Dancer!
And so Dancer is the winner of the figure skating gold! And Dasher is a proud second.
Only three events to go in the Games, so check back tomorrow for the first round of the Speed Skating competition, also here at the Hoojamawazit Skating and Ice Cream Palace. And then it's the Obstacle Course and the 2222 Mile Marathon.