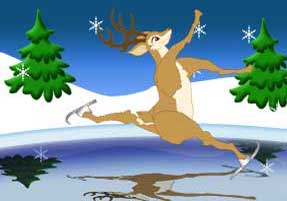 Welcome back to the Hoojamawazit Skating and Ice Cream Palace for the final round of the Figure Skating event – our fifth event of this year's Games.
The Great Eight have put on a great show the first two days on the ice, and the final round should be superb as well.
Prancer was leading the competition heading into the final round, but not by much. And so, it should be a close finish for the gold medal. In the final round, each reindeer must skate for a full 3 minutes and do many, many daring tricks, hoping to impress the sometimes cranky elf judges.
Up first is Dasher and then Donder. Both made good efforts with a number of fine jumps and whirling moves. The judges? Dasher gets a score of 9.2 out of 10 and Donder a 9.3.
Then it was Cupid. In sixth place after two rounds, Cupid seemed too far back to make a run at gold. But she put on a magnificent show, doing 3 triple flips and 2 double wannamakers in a spectacular performance. And the crowd at the Palace applauded loudly for Cupid.
"The crowd is going wild," screamed Rudolph. "What a show by Cupid."
And the judges give her a 9.9! Almost perfect.
Then it was a turn each for Blitzen, Vixen, Comet and Dancer. And each did an excellent job. Scores: Blitzen 9.5, Vixen 9.5, Comet 9.6 and Dancer 9.4.
Finally it was our leader, Prancer. Coming onto the ice to a standing ovation, Prancer did not disappoint the excited crowd. She did 4 double back-flips, 3 double button-makers and a super-duper whirling booky-schnukle maneuver that many of the judges had never seen before.
"I've never seen that either," said Rudolph. "What a move, but what will the judges do? Will Prancer get credit for a move that's never been done? I don't know."
After a long and tense conference, the judges finally arrived at a decision. What would it be? Well, they said it was the best performance they'd ever seen and gave Prancer a perfect 10!
"Superb, just superb," said Rudolph. "A fair mark for a great performance."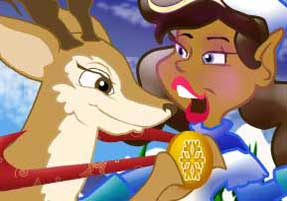 And with that, Prancer is our fifth gold medal winner at the Games. And moving into second place was Cupid with her superb effort. What a show by all!
Check back tomorrow as the Reindeer Games continues to delight the locals at the Ice Palace with the speed skating competition, where the reindeer will put away their tricks on the ice but skate almost as fast as the eye can see.