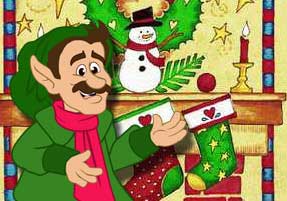 Only a few days left until Christmas! All we elves are putting the last touches on the presents from our workshop and Santa is checking his naughty and nice list twice as much!
To finish preparing for Christmas, we've started hanging our stockings over the fireplace—one of my favorite Christmas traditions! While we're hanging the stockings, we like to read the famous story 'Twas the Night Before Christmas, especially when "the stockings were hung by the chimney with care in hopes that Saint Nicholas soon would be there."
That's where the tradition of the Christmas stocking started—with Saint Nick. We know him now as Santa Claus. Many hundred years ago, a very poor family washed their own clothes and stockings and hung them to dry by the fireplace. St. Nick, hearing about the poor family and wanting to help them have a Merry Christmas, filled their stockings with a few pieces of gold.
The tradition continued along the years, usually by filling socks and stockings with fruit, candy, and nuts.
Now, many people expect small presents in their stockings instead of coins or fruit. But did you know Santa doesn't have to be the only one to fill stockings?
The elves and I have a special tradition. Instead of buying one another presents for our stockings, we make things or write special little notes. You should try it, too!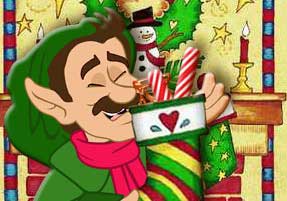 Filling stockings with goods started with charity, and I think it's important to remember the kindness and selflessness that went into the first Christmas acts. Charity doesn't have to be giving to the poor or making large sacrifices. Instead, it could be taking time to make something special for someone special.
Last year, I wrote a poem for Eugene Elf about our friendship and slipped it into his stocking, and he said he loved it even more than the presents he got. The note was more special than something I could have bought because it was a special way to reflect on the memories we've made together.
If you don't like writing, try coloring a picture of a special experience you had. Maybe you could draw a grown up a picture of a time he made you smile, or a picture of some food she made for you that was extra delicious! Things like this remind the people in our lives that we appreciate them and care about them.
Christmas is a time to spread love and think about the wonderful times you've had with the people in your life. When you remind people of the happy memories you made together, you make them joyful on the outside and on the inside!
And that's a present that could never break in the toy box or get too small as you grow bigger. Giving memories and love is a present that will last all year long, even after Christmas comes and goes once again!