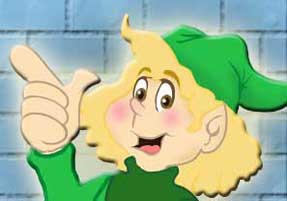 With Santa (and Waldo) in orbit, we've brought back the Santa Spotters in order to track his path in outer space. I went to see Holly Elf, the Chief Santa Spotter, to see how this project is progressing.
As usual, she saw me long before I saw her. "We've got a lot of Santa Spotters out there, and they're doing a great job!" Holly said. She showed me a large sheet of graph paper with lots of lines, names, and numbers on it. She pointed to one point. "This was when Santa was spotted by Marissa, in Eminence, Missouri," she said, then she pointed to another spot on the paper. "And then here was when he was spotted by Michael, flying directly over Calundra, in Queensland, Australia!" Holly smiled at me. "Isn't that incredible? Do you know what this means?"
"No," I replied, "but it must be exciting! Tell me what it means!"
Holly looked a little sheepish. "I don't know what it means either. I was going to ask Gizmo about it, but he's busy building the rescue rocket. Then I thought that maybe Timbo Elf might be able to help 'cause he's always with the reindeer, so he knows about flying--but he's real busy with the reindeer games. There's really no one here to help."
"You're telling me no one at the North Pole can help us find Santa?" I asked.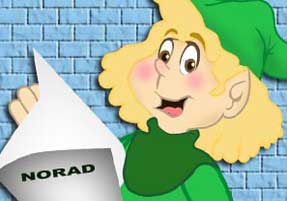 "Yes," said Holly. Then she smiled."That's why I've gotten in touch with NORAD!"
"The North American Aerospace Defense command?" I asked.
"Yes!" said Holly. "They track Santa every year when he's delivering presents on Christmas Eve, so I figure they can help us find where Santa is right now!" She grinned. "That's the great thing about being a Santa Spotter--we can always spot a solution!"
Will NORAD be able to find Santa--with the help of Santa Spotters? Keep reading the North Pole Times to find out!