Hey kids! I'm Fly-About Franny Elf back for another year at The North Pole Times. My job is to fly around in my mini-sled before Christmas every year checking to see how boys and girls around the world celebrate Christmas. Santa says it's a very important job or he would end up delivering the wrong toys to the wrong children.
Right now I'm in New York City visiting my friends the Morrisons. Yesterday we watched the Thanksgiving Day Parade that happens every Thanksgiving in the heart of the city. This is the 98th year that New Yorkers have started celebrating the Christmas season by watching floats, marching bands, and giant balloons of their favorite cartoon characters. But the best part of the parade is the very last float carrying a special guest. Do you remember who that is? Here's a hint... he's my boss.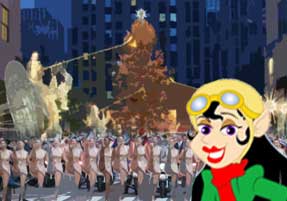 After the parade I asked my friends Timmy and Heather Morrison to show me what else kids do in New York City to celebrate Christmas. They first took me to Rockefeller Center to see the giant tree and the ice rink where people from all over come to ice skate. The tree is very tall, sometimes over 100 feet and is picked from trees all over the northeast United States. Timmy and Heather then showed me how all the stores and restaurants hang Christmas lights and other decorations to make them look very beautiful. Finally we stopped by a place called Radio City to watch the Rockettes. This is a very special show full of music, dancing and lot's of costumes and beautiful scenery.
I really enjoyed it! Now that we've discovered how kids in New York City celebrate Christmas, when Santa stops by on Christmas Eve, he'll be able to give the boys and girls great toys and gifts. I need to remind him that he needs to fly quickly though, because there's a lot of little kids in New York.
Remember to come back next Friday for another Franny Friday report and don't forget to visit us every day at The North Pole Times for new stories.
#1 in Santa's News! Trusted Worldwide!