Super Secret Jack Spinner and his Mighty Sidekick, Zachery the Kosmic Kid, were on the case of the Sabotaged Sewing Machine.
"Finding the first clue is vital!" Super Secret explains to Kosmic Kid. "Hey, where ya going?"
"Just closing the door of the reindeer barn, I think Santa forgot-"
"An open door? Bingo! I knew it all along! I knew we'd find that dastardly villain hiding out in the barn!"
Super Secret burst into the barn, slipped on some soggy reindeer food scraps, and landed face down in a pile of fresh reindeer poop.
"Of course! A food scrap booby trap… he might still be in here…" Super Secret sprang to his feet, searching for the clever criminal, grabbed a carrot from the feed station and bit off one end.
Kosmic exclaimed, "You can't eat those!"
"They do smell a bit like poop, now you mention it..."
"No, that smell is you - you're covered in it. But those are special, reindeer-only carrots."
"Reindeer-only? Carrots are for everyone! Besides, Santa eats them."
Kosmic explained, "They're magical carrots to boost the reindeer's natural ability to fly. In non-magical people they cause-"
"Ahh! I'm floating!" Super Secret was rising higher and higher off the ground. His feet were almost above Kosmic's head.
Luckily, Super Secret Jack Spinner still hadn't tied his shoelaces. Kosmic grabbed a dangling shoelace, to stop Super from floating off into the sky forever.
"Let's go," Kosmic yelled.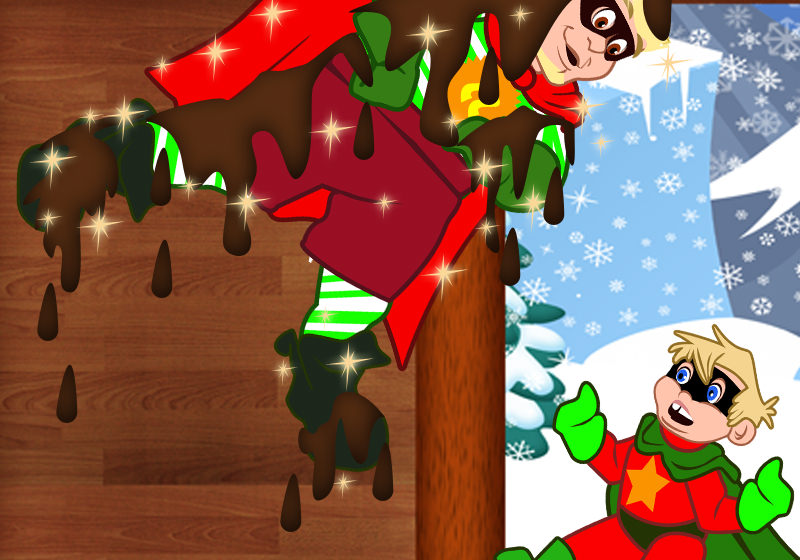 Floating like a helium balloon, Super Secret, responds, "I say when we leave!" He pauses for a few seconds, "Okay, let's go - we're hot on the trail! He can't have gotten far!"
Super Secret ducked down under the door, but not far enough.
KA-BAM!
"Another booby trap! That's gonna leave a mark too…" Super cried.
As they left Kosmic heard an unusual sound behind them. Almost like reindeer… giggling.
"Super, I really think that we need to take a look in Mrs Claus' workroom. There's probably a super simple solution to this case…"
Super Secret wasn't listening. He was gazing over the roof of Santa's house, his eyes wide, still dizzy from hitting his head a second time.
"Don't worry, boss, I've got a tight grip of your shoelace," Kosmic said, innocently.
"A clue!" Super suddenly announced. "On the other side of Santa's house! Tracks, lots of them! I knew he'd leave the barn and head straight for the house! I knew it, I knew it! I just knew it!"
Kosmic nodded, holding the shoelace with both hands, just in case, as he led a floating Super Secret off to examine the clue.
Will the tracks in the snow lead to the dastardly villain trying to sabotage Christmas? Will Super Secret Jack Spinner ever come back down to Earth? More on this developing story next Sunday, right here on the North Pole Times. Same Super Secret time! Same Super Secret place!