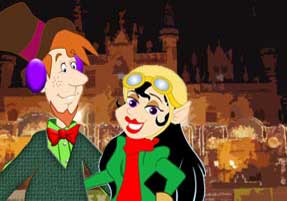 Hi kids,
It's Fly-About Franny back with you with another report for Franny's Fridays. I'm reporting back to Mrs. Claus this week since Santa has gone missing. I hope you're keeping up with Waldo's and Gizmo's adventures on the front page of North Pole Times every day.
Today I'm stopping off to see my good friend Patrick. Patrick lives in a city in Wales called Swansea. Wales is part of the United Kingdom. Oh here's Patrick now walking down the street. Let's stop and say hi.
"Hi Patrick!" "Hi Franny, what are you doing in Wales?" Patrick asked "I've come for a visit and to see how you celebrate Christmas." "Oh, well I'm heading off to see a pantomine, do you want to join me? A pantomine is a Christmas play full of songs, dancing and jokes that families and kids enjoy going to. And then later I'm going downtown to see the street decorations and join some friends to sing Christmas carols."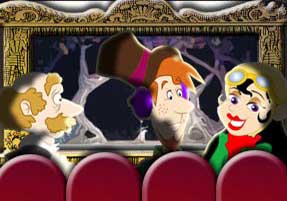 "That sounds like fun. I know Christmas is still three weeks away, but I was wondering what you're doing on Christmas day?" I asked. "Well I'm hoping that Father Christmas, or Santa will bring my family some good presents. I know I've got to wrap some for my family on Christmas Eve," Patrick answered. "And then we open them on Christmas morning and then we all go shopping the day after, which we call Boxing Day." "I remember Boxing Day from when I visited England last year!" I exclaimed. "What else do you do on Christmas Day?" "My family gets together for a hearty dinner, and we gather around the TV at 3pm to watch the Queen's Speech. It's a tradition for people around here. After that we have fun playing games and watching a Christmas movie!" "That sounds like fun!" Franny said. "I'll let Santa, uh, I mean Mrs. Claus know." "Well I hope they find Santa by Christmas Eve!" "Me too!" I yelled.
Patrick and I then went to watch the pantomine "Babes in the Woods", and then I joined him singing Christmas carols, which I love doing. Afterwards I got a call from Gizmo Elf, he wants me to help look for Santa this week as I report on how different places celebrate Christmas. Hopefully I'll be the one to find him. I'll see you next Friday!