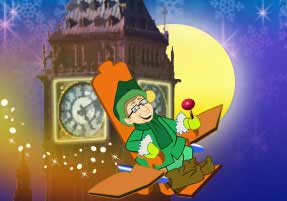 I've spent the last week zipping all over the globe, making notes on all the Xtra Good deeds that have been going on. There was Jaspal in Jaipur helping out in his father's garage, Bruno from Berlin who's made a mean set of cup cakes as a Christmas gift and Leah in Lisbon who's been caring for her neighbour's cat whilst they were away. I've just realised… All the children have names that begin with the same letter as the place where they're from. Strange, huh?!
Speaking of strange, I'm a little concerned about my friend Waldo. No, I don't mean he's strange, but the way he's been acting definitely is. I had a message from HQ via Fed Elf that he's not been himself lately. Waldo, if you're reading this column, I'm thinking of ya pal - get in touch if you want a chat.
You'll be pleased to hear that Terrific Tasks have increased this week by a staggering 80%, which is great news for Santa and great news for your stockings too. Keep up the good work!
This week I visited the U.K, which has had quite a lot of snowfall, which means no school for many kids and a feeling of homesickness for me.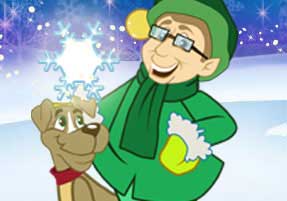 Never mind, I'll be back in the North Pole soon enough. In the mean time, I've enjoyed making some snow elves and throwing a few cheeky snowballs. This week I wanted to encourage you to snowball... Let me explain what I mean. You know when you take a small amount of snow and start rolling it on the ground? What happens?
It starts picking up snowflakes, doesn't it? More and more crystals of snow stick to your tiny snowball and it gets bigger and bigger. It grows and grows until it becomes too big to control and it rolls off down the street on its own. That's what happens when you do a Terrific Task. A good deed doesn't have to be a big one. You can start off small - like smiling at someone or picking up a piece of litter. Then, before you know it, other people are joining in too – cracking a smile or tidying up trash. The Terrific Task snowballs until it becomes uncontrollable with a mind of its own. Soon everyone is being kind and helpful. You've created a monster! (a kind, Xtra Good monster, but a monster nonetheless!).
And all because you smiled at someone you don't know.
Try it this week and I'll do my best to get round to see some of those Xtra Good monsters of good deeds you've created... RAARRRRRR!!!