The elves and Boone were on their way to Santa's village. There was only one problem – they didn't know the way!
As you recall, dear readers, it turned out that mean Boogerwig was a Warm Heart Elf called Boone! When Boone remembered his past, he wanted to deactivate the virus he had launched and save Christmas, but his computer was destroyed.
So, Boone and the elves needed to go to Santa's village. They found an old sleigh and one-horned reindeer Randolph to help them.
Waldo, Mikee, and Gizmo knew the way over the hills, valleys, and across the Lake of Unfrozen Waters, but there was no time for such a long journey. They didn't know how to get there through the air, nor did Randolph, who had never flown before.
"Comes on, Randolph! I shows you the way!" exclaimed Boone.
"You know the way?" Gizmo was surprised.
"Of course! All members of my tribe could find Santa's village with their eyes closed!" said Boone.
Randolph took off and flew across the sky through snow and blizzard. He followed Boone's instructions, which weren't always clear.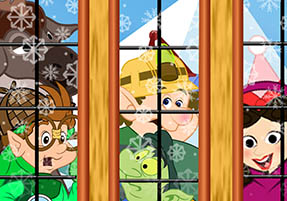 "Turns left!" Boone shouted but pointed to the right.
"No! That is right!" the elves yelled.
Boone did know the way but mixed his left and right side a bit.
"Maybe you should try with your eyes closed," blurted a confused Randolph.
The ride seemed like a roller coaster. The elves rolled one over each other every time Randolph turned left or right.
The journey wasn't comfortable, but it was over. Finally, the elves saw a familiar sight in the distance.
"Here we are! Randolph, stop!" Boone shouted.
"How? Where are the breaks?" poor Randolph tried to stop but ended upside-down in the snow.
The elves were finally back home. However, they were shocked to see the village in an even worse mess than it used to be.
"Oh no!" they all screamed.
The things in the village didn't seem good at all.
What do you think, dear readers? What was happening in the village? Will Boone get things back to normal?
We'll be back tomorrow with the newest updates on this exciting story. Right here on the North Pole Times only!
#1 in Santa's News! Trusted Worldwide!