Somebody at the North Pole recognized Boone.
As you remember, dear readers, the elves solved the problem with the wrong boxes. The Presentator—Gizmo's old invention—started switching them, and the elves were jumping with joy.
But there was a tiny problem. The Presentator stopped working for a moment because Waldo - or Boone - knocked out a cable while celebrating.
Finally, everything was in order. There was no longer even a trace of the greatest mess the North Pole had ever seen.
Dear readers, it seems that Christmas has been saved. Soon the Presentator will finish repacking all the presents for Santa to deliver on time.
But let's go back to the elves.
Boone was still in the workshop with the elves and Randolph when he heard a familiar voice. It was the voice he hadn't heard for such a long time.
Yes, it's Santa!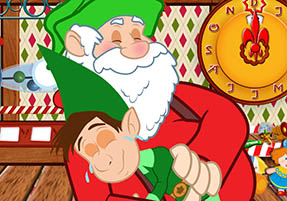 "Oh, my dear little Boo. What brings you here?" Santa asked Boone. "Are your parents here too? Oh, my dear Warm Heart Elves, I miss them."
Boone tried to hold back his tears but couldn't. He missed them too, more than ever. Santa hugged poor Boone, who couldn't stop crying.The warm Christmas atmosphere at the village and Santa's warm hug made him remember his childhood and all the wonderful times he had before the lembas bread disaster.
He had let his anger at his brothers and sisters turn him into a mean and nasty creature. Even worse, it made him hate and blame those who loved him most. But that has all changed. After all these years of feeling nothing but hate, all he wanted was to see his family again… but they were gone forever.
"Please, Santa, can I stay here at the North Pole and be part of YOUR family? Please?" Boone still cried.
Santa hugged him tight, kissed his forehead, and smiled.
What do you think, dear readers? Will Santa allow Boone to be part of the North Pole family, or will he have to return to the dreary castle across the Lake of Unfrozen Waters.
We'll have all the answers tomorrow. Don't miss the latest news about this emotional story.
Right here, on the North Pole Times! #1 in Santa's News! Trusted worldwide!