Yes, dear readers! The elves found the snow fairy!
However, their quest didn't go so smoothly. As you recall, the elves got lost in the icy wilderness. A strong, howling wind carried Mikee and her scarf into a deep hole. Luckily, Waldo and Gizmo pulled her out safely.
Dear readers, you won't believe it! The hole was the entrance to the cave where the snow fairy lives!
Waldo, Mikee, and Gizmo couldn't be happier to see the tiny sparkle was the snow fairy! She was taking a nap when she heard Mikee's scream and came to see what was going on.
Oh, dear readers, what a joy!
The elves found the snow fairy who knows the new elf. They are about to solve the mess at the North Pole! All they need to do is ask for a secret antivirus code, deactivate the virus and save Christmas! Piece of cake!
Well, not so fast.
There is a tiny problem.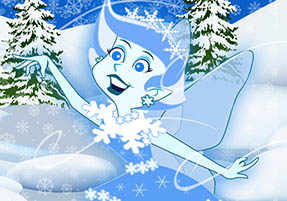 "I've not heard of the elvish creature you speak of." the snow fairy said softly.
Waldo, Mikee, and Gizmo's dreams were shattered. The snow fairy was their last hope! They had no more clues! How would they find the mysterious elf girl? How would they save Christmas? Would there even be Christmas this year? Would there be Christmas ever again?!
"Alas," continued the snow fairy," there's but one creature capable of casting such a spell. Beware of this creature whose name I fear to speak. He dwells in the castle beyond the Lake of Unfrozen Waters where the air is thin, and the skies are dark."
Waldo gulped in fear. "I'm not afraid!" he declared frighteningly.
"To reach your destination, it is a boat you must take. One lies on the South shore, where the stream that flows outward meets. Be well, my friends." With a twinkle, the snow fairy vanished into her cave.
Waldo, Mikee, and Gizmo took a deep breath. They were tired and cold, but they had to move on. They had to find the boat that would take them to the castle beyond the Lake of Unfrozen Waters.
Will the elves find the boat? Will they find the meanie who caused the greatest mess at the North Pole ever?
We're back tomorrow with the answers!
#1 in Santa's news! Trusted Worldwide!