Waldo, Mikee, and Gizmo were lost, terrified, and frozen somewhere in the icy wilderness. As you remember, dear readers, they went to find the mysterious new elf whose friend request launched the virus. On their way through ice and snow, the elves met Yeti and the polar bear. It turned out that neither knew of the new elf, but the polar bear sent them to look for the snow fairy, who just might.
As they were standing out in the open in the deep snow looking everywhere for shelter when they heard a great howling…
"What is THAT?" Mikee shouted gulping in fear.
The three elves turned around to see a huge wall of white headed straight for them. "It's a blizzard!" Gizmo shrieked, "And it's coming right at us!"
Suddenly, a fierce wind carried Mikee's scarf away. She managed to grab one end and tried to hold on, but the wind was too strong. SWOOSH! Mikee was taken by the intense gust and drifted off into the night.
"Mikee's in danger!" Waldo screamed as he watched his friend carried away by the snowstorm.
As Mikee disappeared from their sight, Waldo and Gizmo looked down and saw a deep hole in the snow. Poor Mikee was falling into an endless dark tunnel. "HEEEELP!" her cries echoed throughout the tunnel.
Waldo stretched out his tiny arm and managed to grab the other end of her scarf!
Both Waldo and Gizmo pulled the scarf up as hard as they could with their tiny frozen arms. These tiny arms were Mikee's only hope.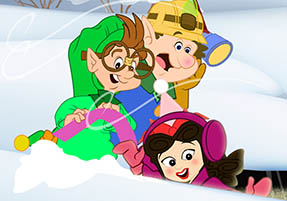 They had to save her! Waldo and Gizmo pulled the scarf despite the strong wind and blizzard until they saw the top of Mikee's head peeking out of the deep hole.
Soon, Mikee was out, safe and sound. Shaking with fear and cold, she hugged Waldo and Gizmo.
"Guys, look!" Mikee pointed.
The two elves came close to the entrance of the deep hole and looked down.
As they gazed into the dark tunnel, a tiny sparkle shined as it gracefully approached. It was a beautiful sparkle, glistening in the darkness like that of the North Star on Christmas morn. It's as if it was a…
What do you think, dear readers? What did the elves see? Could it be the snow fairy?
Get the newest updates on this exciting story TOMORROW on the North Pole Times.
#1 in Santa's News! Trusted Worldwide!