Poor Waldo was looking desperately at the dying tree. All he wanted was the perfect red Christmas tree he had spotted on his way back, but now he had a bunch of loose branches with dry pine needles. He had no other choice but to organize the Great North Pole Christmas Party with the tree chosen by Bugzy the Bug and his "Bug buddies!"
Mikee was looking at Waldo, thinking of a way to help him. For a dry tree like this one, it would take a miracle!
Mikee took Waldo's hand, and both of them hugged the reddish tree, not letting go of each other's hands for a second.
Maybe for Waldo's true wish to have the unique tree, or for Mikee's need to help Waldo, or for the magic of Christmas, or all of the above, the miracle happened!
When Mikee and Waldo opened their eyes, they couldn't believe it! The tree was still red, red like strawberry and mustard pudding. However, its loose branches went up and the dry needles turned fresh and healthy!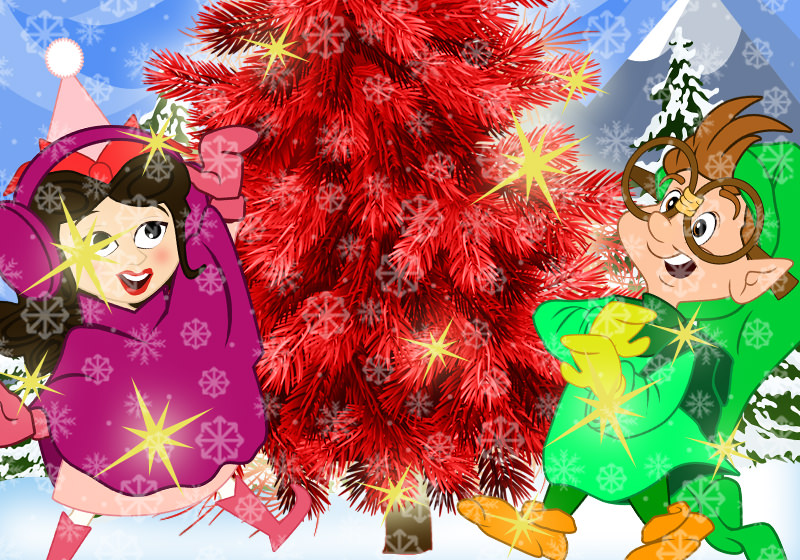 It was a magnificent red tree, one and only at the North Pole, which Waldo wanted so much!
"It seems that miracles can happen to those who truly deserve it," thought Mikee.
Now when he had the perfect tree, Waldo needed one more thing for the perfect Christmas party – his friend Yeti and her baby!
As the four of them were hugging at Yeti's cave, a blizzard started outside. It seemed impossible for them to find the way home, and if they had waited for the blizzard to stop, it might've lasted long after Christmas!
There was only one person on the North Pole who could've led them safely to Santa's village, the person whose red nose would've lightened the way!
"I'll call Rudolph via my QuantaCom Encryption Watch!" said Mikee. "Uh-oh!"
What do you think? Will they call Rudolph for help? Will Rudolph find them in time? Keep reading The North Pole Times to find out!