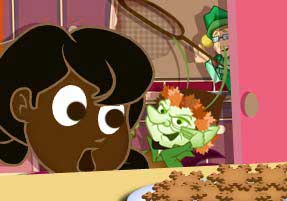 Hi folks! Toomer Elf here on another Terrific Task Tuesday mission. If you were reading last week (and if you weren't, where have you been?!), you'll remember that Santa has asked me to find out why this year's Nice List is so short. It seems children all over the world are being a lot naughtier than usual.
Last week you'll remember that I went undercover, trying to find out where all the naughty behaviour is coming from. I hid in Joe's house and I came across a rather grubby goblin who has been going round whispering naughty ideas into children's ears. Thankfully the nasty little goblin didn't get very far and this week I caught up with him again. In fact, I didn't just catch up with him, I ACTUALLY CAUGHT HIM! Here's how I did the deed...
Seeing Joe eat all those brownies made me start to feel hungry myself. So, I did what any elf would do in the circumstances - I followed my nose. In the air wafted the delicious smell of freshly-baked cookies and it led me to Kayla's house.
Now, Kayla, if you've never met her is a VERY well-behaved girl. She's always been on Santa's Nice List. However, a quick glance at this year's list told me that she's NOT ON IT! Something must be up. I crept into the kitchen very subtly and hid behind the door, where a butterfly net was propped.
"Aha!" I thought. "That might come in useful!" Kayla's mom had just pulled a tray of cookies out of the oven. They smelled beautiful.
"Don't eat any, will you?" she asked Kayla, who was reading at the kitchen table. "They're for Christmas." Kayla shook her head. "I won't," she promised and carried on with her book.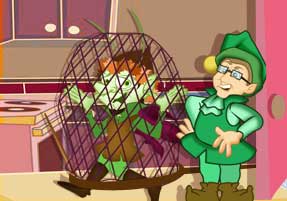 But then the phone rang and Mom left the room to answer it. She hadn't been out of the room for two seconds before that fiendish fairy appeared at Kayla's side. "Take a cookie," he whispered in Kayla's ear. "Don't worry about being good! One won't matter!" I could see in Kayla's eyes that she was considering it. I have to admit, those cookies smelled mighty fine from behind the door too. "I'm not naughty," she said. "I want to be on Santa's Nice List." "Nice Lists are for losers..." urged the goblin. "Take a cookie!" And, with that, Kayla stretched out a hand to take one. The goblin did a little dance with glee and, as he was distracted, I whipped out the butterfly net and... gotcha! Like Santa's presents, he was well and truly wrapped up.
"Well done for catching the goblin," I hear you say. "Santa will be so pleased with you."
Well, I'm not so sure. I've still got a major problem and it's not the stinky little creature wrapped up in a butterfly net right next to me as I type. No, my problem is Santa's Nice List. I've caught the character responsible for all the naughty deeds, but how can I get all the children doing Terrific Tasks in time for Christmas? It would be a terrible shame if they all missed out on the Nice List because of this pesky goblin.
I've got one more Tuesday to come up with an idea... Otherwise there'll be a lot of toys going to waste this year.
Yours capturingly,
Toomer and Annette (a net! Geddit?!)