Gizmo, Waldo, Mikee, and Boone ran into the workshop full of wrong toys in wrong boxes.
As you recall, dear readers, the virus was deactivated, and things were back to normal. At the same time, Boone's looks – and speech – changed, and he transformed into a handsome Warm Heart Elf.
The Appendapulator stopped making the wrong toys but had already made too many that couldn't be used! There was no time to start from the beginning as Christmas is so soon!
Our elves had to find another way!
Boone - who couldn't stop admiring his new looks - suggested, "Maybe I can connect some wires on the toy-making machine... or restart it? … A new virus might make it..."
"NOOO! Not another virus!" the elves screamed.
"Yes, bad idea. I know! I might..." Boone paused as he was walking past the workshop window stopping to admire his reflection in the window glass.
KA-BAM! CRASH!
Waldo, distracted himself, trying to avoid Boone's sudden stop, tripped over a box lying on the floor and ended up in a pile of boxes filled with wrong toys.
"I messed up... again!" Boone shouted.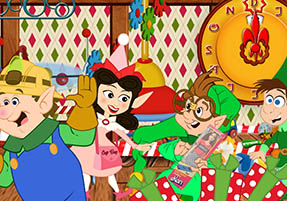 "Hey, guys!" Waldo shouted, holding an open box.
It seems that Waldo smashed a few boxes when he fell. The boxes opened and...
"Look! A Barbie doll in Ken's box!" Waldo cried out.
The elves quickly checked the other boxes. They found a tablet in a mobile phone box, an XBox in a PS4 box, and a plush toy in a doll box.
"Wait, let's check the list!" Mikee exclaimed!
Dear readers, you won't believe it! It turned out that the toys were NOT wrong at all!
They were those you had asked Santa for, just packed in the wrong boxes!
Well, it wasn't the magic that solved the problem, but a mixture of Boone's self-admiration and Waldo's clumsiness, but it still worked!
The good news is that the Appendapulator doesn't have to make all the toys from the beginning. Unfortunately, there is also bad news...
"Santa can't take these presents to kids! We need to pack all the toys in the right boxes!" Mikee said sadly. "It'll take forever!"
"I know what we need!" Gizmo exclaimed.
What do you think? Will the elves repack all the toys on time? Can anything help them?
We're back tomorrow with the latest updates on this exciting story. Right here on the North Pole Times!
#1 in Santa's News! Trusted Worldwide!