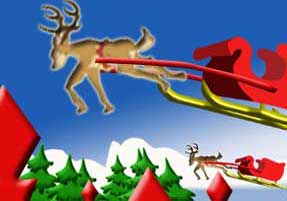 Today we move to the final round of our seventh event – the Obstacle Course.
Yesterday, Dasher, Donder, Dancer and Vixen were the top four finishers in our first round and will compete today for the seventh gold medal of the games.
Manny Elf, head of Reindeer Game Obstacle Course Construction, has put together a fun course for the event.
Each reindeer will be hitched to a big sleigh full of gifts – just like on Christmas Eve (except Santa won't be along for the ride). When the race begins, each will take off with the sleigh, fly many miles outside the North Pole, make a big u-turn at Schenectady and then head back.
Once back at the North Pole, the reindeer will land on a big house, unload some gifts and then take off toward the end of the course. Just before the finish line, each reindeer will put on some skates and perform a double back-flip on the ice – just for fun.
And so before a packed house at Manny's Super-Duper Obstacle Course Stadium, the final round was ready to begin.
Dasher was up first. And she's off! After a nice take-off, Dasher moves swiftly up and out of the stadium in fine form. She's off to Schenectady as fast as she can.
"Beautiful job by Dasher," said Rudolph. "Her flying skills look very sharp."
And in just a few seconds, Dasher is back at the North Pole and landing safely on the Obstacle Course house. And finally the back-flip.
"All beautifully done," said Rudolph.
And all in 41 seconds. A very good time for Dasher. Will the other reindeer be able to best that time?
Well, next up is Donder. And she is off. After a very good run by Donder, the official elves post her time at 39 seconds. Very, very good.
And now Vixen. Vixen makes a fine run and is in at 37 seconds! She is now in first place. That will be hard to beat, and there's only one reindeer left.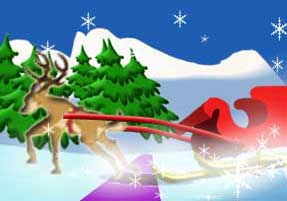 Finally, it's Dancer. She takes off perfectly and is headed to Schenectady in a flash. She does a superb u-turn and is quickly back at the North Pole. After a smooth landing and some gift unloading and a perfect double back-flip, she's at the finish line! All in just 34 seconds. Well, that's our winner and the seventh gold medalist at the Games.
Only one more event to go in what has been a fun and an exciting Reindeer Games event.
Our other gold medal winners so far have been Cupid in the High Jump, Vixen in the Long Jump, Comet in the Sprint Race, Blitzen in the Around-the-World Marathon, Prancer in the Figure Skating competition and Dasher in the Speed Skating event.
Check back tomorrow for the start of our final event – the 2222-Mile Marathon.