The gate opened, and the elves could now enter the castle of the meanie. After many attempts to open it, Waldo saw a shadow of a creature and screamed, "Oh Boogerwig!"
Dear readers, it turned out that Boogerwig was the password that opened the gate. A bit strange, I know, but nonetheless, the gate had opened. The poor elves now had bigger problems. Who or what was responsible for casting the eerie shadow?
As the three elves stood out front, thousands of crows circled the castle roof engulfing the light of the full moon and throwing the entire grounds into complete darkness. CAW! CAW!
Poor Waldo pointed to the place where he saw the creature, trembling with fear.
"Guys, I…I…I swear it was the creature with giant teeth and sharp claws!" Waldo, still trembling, uttered. "I saw it!"
But there wasn't anyone in the frozen castle yard anymore.
Did the creature disappear? Was it real or Waldo's imagination?
"Maybe that's the meanie we are looking for," Mikee suggested.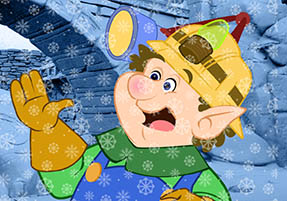 The elves were moving slowly towards the dark castle with one thing in mind – save Christmas. They couldn't let their fear stop them, no matter what.
They looked left and right, but there was no trace of the creature. As soon as they got to the castle, the door opened slowly. The creak of the old giant door made the elves tremble.
EEEEEAWW.
As the door opened, the elves saw a long hall leading to a round wooden staircase. The hall seemed endless for the tiny elves' legs. The three of them moved on slowly, step by step, inch by inch, as they searched for clues.
So far, there was no trace of the meanie. The castle seemed empty with no one but the three elves.
Suddenly, Gizmo screamed, "Oh no! Where is…?!"
Oh no! What happened? Somebody was missing!
Dear readers, forgive me for delivering bad news, but I have to tell you the truth. One elf disappeared!
Who do you think disappeared? Will the other two elves manage to find their missing friend?
We'll know more about this scary story TOMORROW on the North Pole Times!
#1 in Santa's News! Trusted Worldwide!