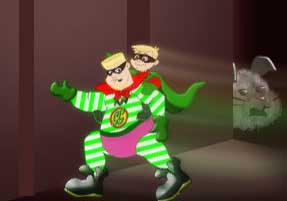 Last time on Super Secret Sunday… WOW!!! We are so small. Monty the Mountie made us so…TINY! And, this tiny mouse hole is not so… tiny. It's really elaborate and there is a ton of different ways to go, it's just one big, gigantic, enormous…MAZE! I am going to need a little bit of help figuring out which path to take… CHEESE!!!! Looks like the Path of Cheesiness is the way we'll go…
Now the thrilling CONCLUSION of the case of the Super Secret Christmas Sugar Cookie Recipe…
SQUISH!!!! SQUISH!!!! SQUISH!!!!
YAY!!! We landed safely… on cheese. Hey Kosmic Kid! That fall felt like it took forever. "I know it felt like a week," the Kosmic Kid laughs. Yes, yes it did. I was mid sentence too, but forgot what I was going to say now. Oh well.
Amazing! This whole place is filled with cheese. I wonder where that tiny mouse is? Squeak! Squeak! Squeak! Did you hear that? It sounded like squeaking. But it was so far away I could barely hear it. "Um Super Secret," interrupts, Kosmic Kid. What is it Kosmic Kid? I'm trying to figure out where that sound came from. Now if I were a tiny squeaky sound where would I be? "You should really turn around Super Secret," says the Kosmic Kid. Not right now, I just figured out where the sound is coming from. "Super Secret…" Kosmic Kid tried to explain. Listen, would you like me to tell you where the sound is coming from, or are you going to keep interrupting me? The sound is coming from right… behind… me…
SQUEAK!!! SQUEAK!!! SQUEAK!!!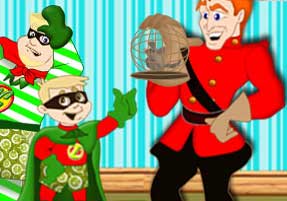 Oh boy, you're not a teensy weensy mouse at all. So… umm…. Just to let you know, I tried to tell him not to do it. But my sidekick the Kosmic Kid, ate that candy cane that you left on the floor. "HEY!" yells the Kosmic Kid. If it's any consolation, he did say it was delicious. So…
RUN!!!!!!!!!!!!!
I can't run fast enough in my little body. Keep running, we need to run faster; he's gaining on us. Oh, quick, run faster. I see the tiny mouse hole that we ran through. JUMP!!!!!
Quick Monty the Mountie, trap the mouse before he goes back into his mouse hole.
SLAM!!!!!
"Gotcha, Mr. Mouse. Looks like I am going to be taking you in for stealing the Super Secret Sugar Cookie Recipe. You are going to be spending the rest of your days at the Swiss Prison on Cheddar block C" laughs Monty the Mountie.
Ahhhh, cheesy references. You always crack me up Monty. Looks like we have recovered our Super Secret Sugar Cookie Recipe with the help of Monty the Mountie, and all of you at home. Thank you for saving the day. There is something that I have to say, but I can't… because, it's a secret. Take it away Kosmic Kid.
"MERRY CHRISTMAS EVERYONE!" says the Kosmic Kid
I hope you'll come back next holiday season for another exciting adventure with, Super Secret Jack Spinner the Specialized Sleuth and his mighty sidekick the Kosmic Kid. I hope you enjoyed the "Super Secret Christmas Sugar Cookie recipe" as much as I did. Until then, be safe and take care everyone! Merry Christmas!